Sympathy flowers are a vital part of any floral business. They offer comfort to grieving individuals and families and provide a tangible expression of support during such a difficult time.
Full Article Below Source
 RIO ROSES FLORAL MARKETING STRATEGIES
Sympathy flowers are a vital part of any floral business. They offer comfort to grieving individuals and families and provide a tangible expression of support during such a difficult time. Here are a few ways sympathy flowers are essential for your floral business:
• Customer Relationships: Providing sympathy flowers allows you to build and strengthen relationships with your customers. You can create a lasting impression and foster customer loyalty by offering compassionate and personalized service during difficult times.
• Marketing and Branding: People who see beautifully arranged flowers at funerals or memorial services may inquire about the source or recommend the florist to others in need. This word-of-mouth marketing can contribute to your visibility and reputation within your community.
• Revenue: Funerals and memorial services are occasions where the demand for floral arrangements is high, and the need is immediate. By offering a range of sympathy flowers and related services, you can cater to this specific market and generate income.
Three Vital Elements of a Sympathy Arrangement
• Flower Color: The most common color used in sympathy arrangements is white, representing purity, innocence, and sympathy. Yet, you are not limited to white; many people will want arrangements featuring their loved one's favorite color, which can be vibrant, dark, or pale.
• Flower Type: Often, sympathy arrangements use flowers like white roses, carnations, daisies, and lilies, as these symbolize peace and serenity. However, try to get more information from the bereaved about their loved one to create an arrangement featuring their favorite flowers, as they will have more meaning.
• Message: It's not only the card attached to the arrangement that can contain a message; the entire arrangement can convey a special meaning to the deceased's loved ones. Unique containers, shapes, and styles can all add special significance to a sympathy arrangement.
9 Sympathy Flower Combinations
To give you an idea of what types of arrangements to offer your customers, here are nine different combinations of flowers and colors. Use them as they are or modify them to align with your brand and available flowers. These are ideas — and your creativity can make them even better!
A Spiritual Touch
Purple represents spirituality, making it the perfect addition to this white and cream wreath. Roses, lisianthus, and chrysanthemum poms are interspersed with purple lisianthus and lovely green foliage.
Peaceful Glory 
Peace is the message of this magnificent all-white casket spray. White roses, lisianthus, stock, and lilies spill over beautiful deep green foliage.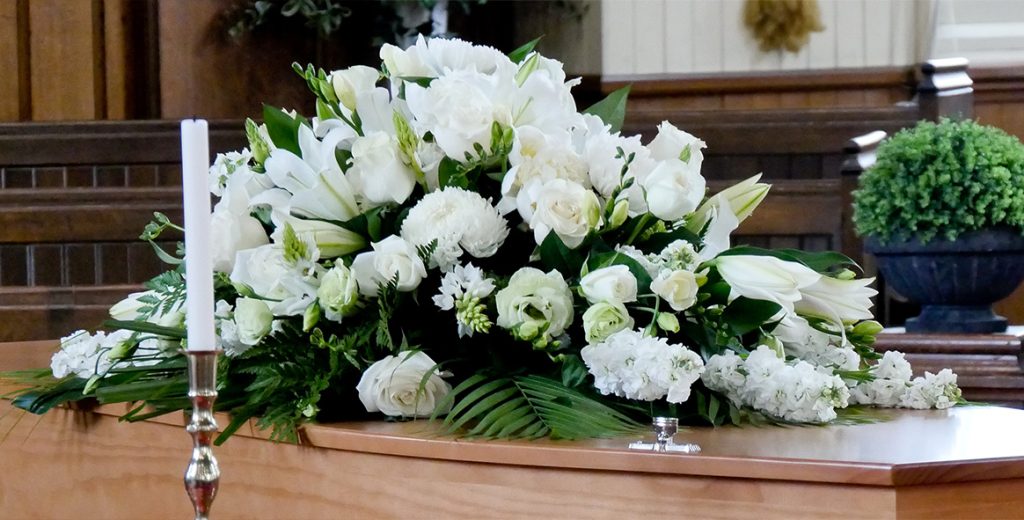 Love and Respect
Red roses at a funeral represent love, respect, and courage, making them ideal for this arrangement. Red carnations, white lisianthus, and green foliage complete the stunning design.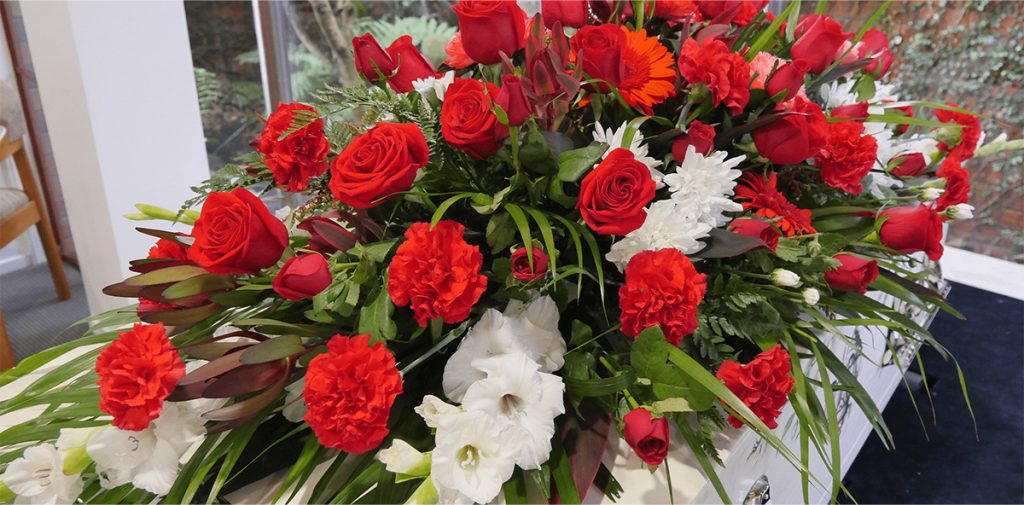 Celebration of Color
This bright and colorful casket spray features hot pink hydrangeas, light pink and purple lisianthus, pink oriental lilies, cream spray roses, and white hypericum.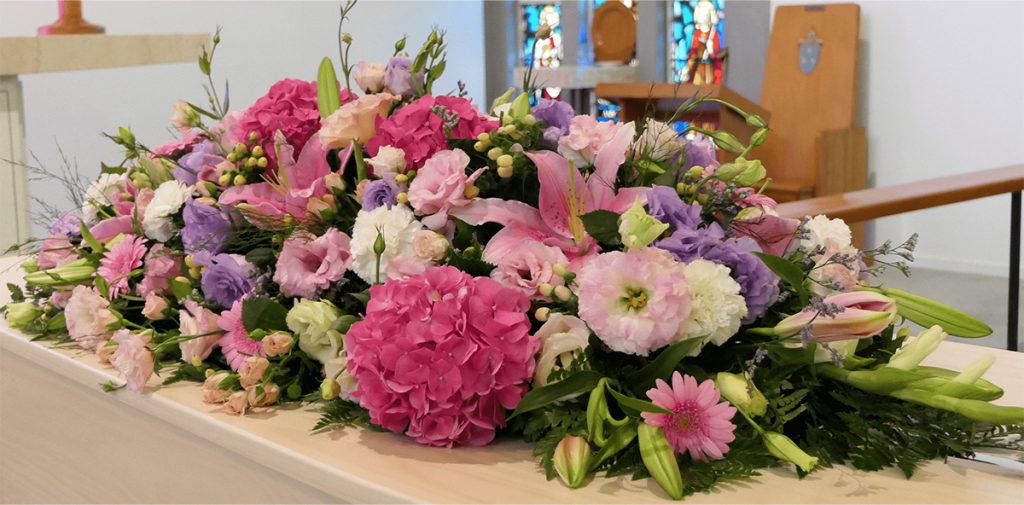 Pastel Beauty 
Lavender, light pink, medium pink, and bi-color yellow and pink roses make a peaceful, soothing arrangement with a gorgeous pastel hue.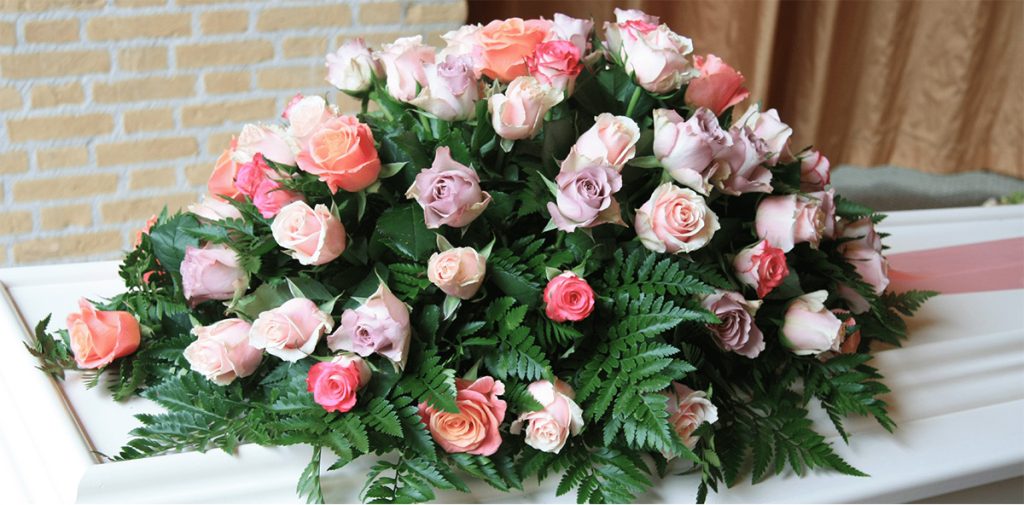 Peace and Prayers
This classic floral cross is made with white carnations and topped with white roses. It's a special and memorable way to honor a lost loved one.
Eternal Love
Nothing represents love better than red roses in a heart shape. Adding white roses and white spray roses creates a symbol of everlasting love and peace.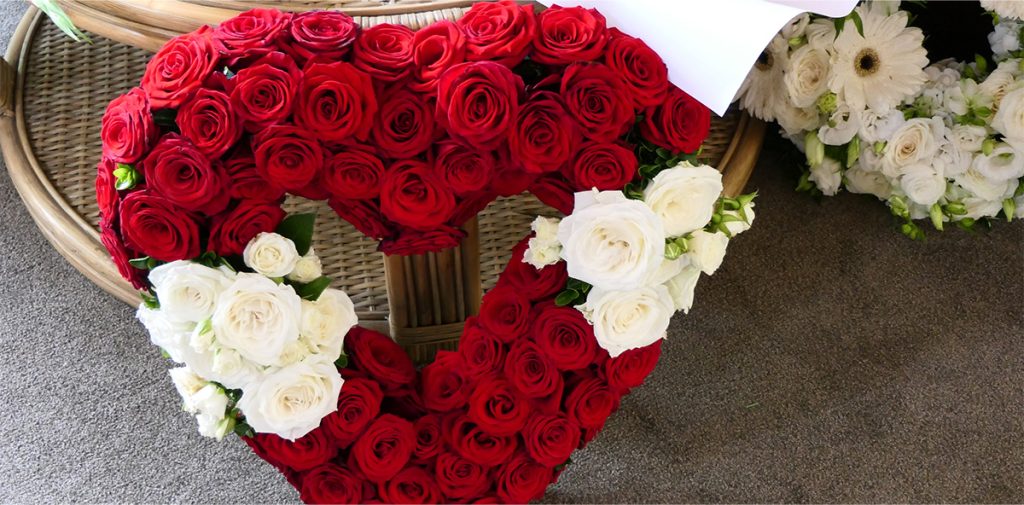 Classic Beauty
Red roses, white gypsophila, and green foliage combine to make a gorgeous and classic urn wreath that can also surround a photograph or other treasured item.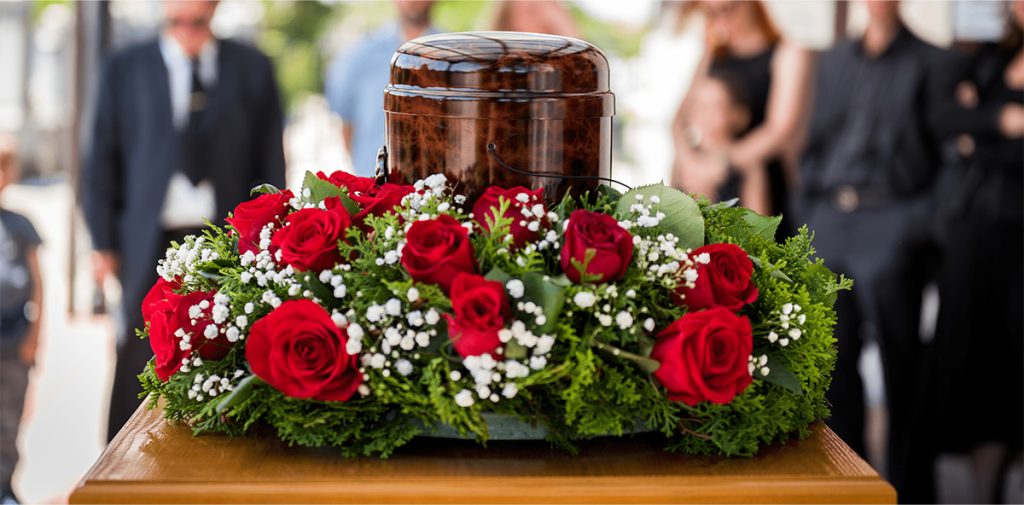 Peace and Joy
Pompons signify peace, hope, and joy, making them an ideal choice for a sympathy arrangement like this beautiful all-white urn wreath.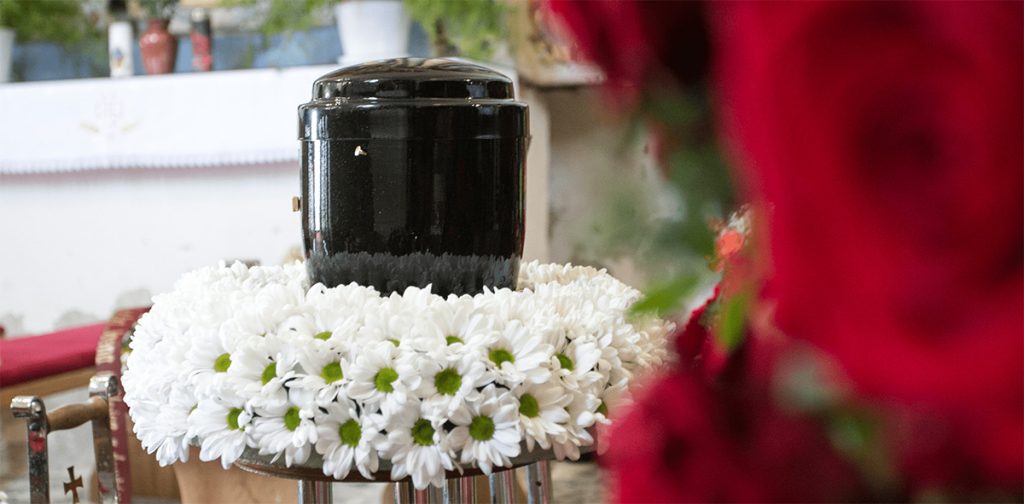 We hope this has given you a few ideas for creating or updating your sympathy flower collection. By providing compassionate service and personalized arrangements, you can offer condolences to those who are grieving, build strong customer relationships, and foster loyalty.