For this Month's Masterclass, Our CEO and Founder, Corrine, spoke with the editor and chief of Thursd, Arnold Wittkamp. If you missed our session with Arnold, here is a complete recap!
What is Thursd?
Thursd is the online floral meetup spot where international professionals in floriculture connect and expand the online conversation. Thursd's mission is to be the leading platform for international floriculture professionals and become the world's most popular and authoritative source of information. Showcasing companies, products, and services to help fans decide what to watch and what to follow. Thursd has a team that expands Europe, South America, and even Africa to create content for all facets and locations of the industry. 
Arnold has always loved flowers, plants, and nature all his life. He has worked with wholesalers and growers and owned his own flower shop over his long career in the field. He met so many people through his journey, and he was able to learn and cultivate content based on those relationships. The name Thursd came to be simply by Thursdays being the highest open rate day for newsletter sends to florists!
There is a huge demand for floral knowledge, so Thursd always seeks content to share with its audience. If you have news about your business, a great story, or even a Press Release, Thursd will share it! They are a self-proclaimed content machine that publishes 20-30 articles a week on all different types of information. From plants in the prehistoric age to photographers in nature, there is content everyone can enjoy on the platform. 
What is next for Thursd?

Thursd plans to expand its offerings to create a platform where florists can directly contact the growers and breeders to see product lines and pricing directly from the source. They pride themselves on staying on top of trends in the floral industry and all industries. They monitor many newsletters, from interior design to fishing and produce, to see how that correlates to the floral industry. Key Word searching is a large part of how they plan to stay current and to be noticed in search queries. 
One piece of technology that has helped the team at Thursd is the new AI ChatGPT. ChatGPT is a neural network machine learning model trained using internet data to generate text. Developed by OpenAI, it requires a small amount of input text to generate large volumes of relevant and sophisticated machine-generated text. it is certainly interesting to take a look at if you ever need a prompt for a social media caption, blog, and even email campaigns, 
If you want to see Thursd in action for yourself, make sure to check out their website for all of their content and marketing offerings! 
Watch the full Masterclass replay with Arnold below!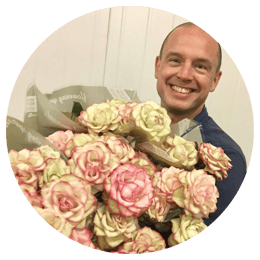 About Arnold Wittkamp
Arnold is experienced in advising and mentoring organizations and individuals on topics of strategy, content, product marketing, user experience design, SEO, and business development. At Thursd, it is his mission to help people connect, from grower to end-consumer, and help them to decide what to watch, what to follow, and what to buy.
His team believes that the right mix of content + transparency is what Thursd's large international audiences like. Every day, team Thursd strives to bring great valuable content to all interested in flowers & plants.