For this Month's Masterclass, Our CEO and Founder, Corrine, spoke with Nicholas Chang and Jena Gizerskiy to give viewers an inside look at Rosaprima and how you can use their products in your events in Details. If you missed our session, here is a complete recap! 
In our Masterclass, we learned about the beginnings of Rosaprima. The company began in 1995 with only 8 acres; now, it is about 400 acres. They currently have 140 varieties of roses, 10 to 12 varieties of ranunculus, and anemones, and they are launching varieties of Spray Roses coming very soon!
Innovation
Rosaprima has innovated the harvesting process to save time and be more sustainable. The farm implemented a "zip line" conveyor belt that cuts the time in half of transporting the product to the post-harvest area.  
The farm in Ecuador is located about an hour north of Quito, where the weather and altitude greatly impact the product's success. Rosaprima sees growing as an art form and strives for perfection each harvest. 
Ordering 101

If you are looking to order from Rosaprima, make sure to ask your wholesaler if they carry their products! Rosaprima is always open to answer any questions and help locate a wholesaler that can provide products for you. International clients, you can also receive Rosaprima Products!
Rosaprima has a very successful Valentine's Day.  The 1600 team members on the farm successfully shipped 7 million items for Valentine's Day this year. They credit their success to early orders and little to no logistical issues. Tips from the team at Rosaprima, make sure to get your orders in early to your wholesaler for the holidays! Rosarpima starts accepting Valentine's Day orders as early as November.  The typical time to place your order for a wedding or event is 2-3 weeks in advance. 
Make sure to set expectations for your clients on what is available. Many different color options and varieties are available to suit everyone's needs. 
Top Performing Products

At the end of the year, we pull analytics to see what products our members use the most. Rosaprima has been online for only 2 months; we've noticed these are the top 5 most popular in our system: 
Rose: White O'Hara 

Rose: Geraldine

Rose Freedom

Rose: Escimo

Rose: Sweet Unique



The RP Moab is a bloom that is definitely a favorite with consumers and the staff at Rosaprima. The bloom is beautiful with a luxurious scent. On Details, you can view all of Rosaprima's products to use in your events. You will notice an RP in front of the bloom name. This stands for an exclusive collection that only Rosaprima carries!

Watch the full recap video below!
---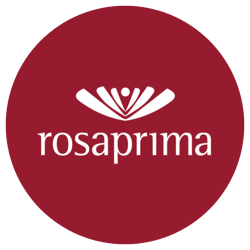 About Rosaprima
Founded in 1995, Rosaprima provides premium roses across the globe. The team at Rosaprima monitors current trends in the industry and cultivates luxury blooms with the florist in mind.  "With a presence in five of the seven continents, our global reach enables customers around the world access to the exquisite Rosaprima collection. We are in tune with local markets and buyers' preferences, allowing us to curate a globally appealing collection." (Rosaprima) Learn more about our Partnership with Rosaprima in this blog here!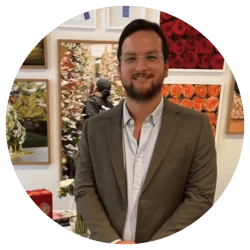 About Nicholas Chang
Nicholas Chang is a forward-thinking executive with global knowledge, a strategic vision, and excellent team leadership. He is currently the Vice President of Sales and Marketing for Rosaprima, the premier grower of high-end luxury roses in Ecuador. He has a true passion for flowers and for this wonderful industry that has allowed him to travel the world, grow professionally, and meet many like-minded people along the way. Nicholas grew up in Quito, Ecuador, and moved to Miami 10 years ago, where he currently resides. He enjoys surfing, long bike rides, reading, and spending time with his wife and two-year-old daughter.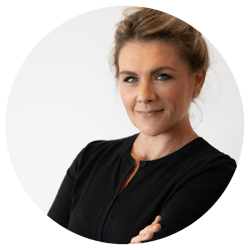 About Jena Gizersky
Jena is the Sales Manager for the North American branch of Rosaprima, a company dedicated to growing the most luxurious rose varieties in the world. Rosaprima's values: unequaled craftsmanship, sound business practices, and a belief that roses have a starring role in life's most precious moments were exactly the kind of culture she always wanted to be a part of. She knew nothing about the industry but loved what she was seeing. Fast forward nine years, and she is proud to lead a Sales Team of 5 incredible winners and to be a part of the most resilient industry!