As the CEO/Founder of Details Flowers Software, I am thrilled to share the resounding success of our partnership with the American Institute of Floral Design (AIFD) and our software platform's remarkable impact on their recent annual symposium. This year marked our second year as the official procurement software for the event, and we worked closely with the procurement chairs to ensure a flawlessly executed and unforgettable experience for all attendees.
The AIFD symposium is not just an event; it's a grand celebration that brings together industry professionals, renowned floral designers, and enthusiasts worldwide. It's a convergence of creative minds, a symphony of colors and fragrances, and an immersive experience that leaves a lasting impression on all who attend. This year, the symposium reached new heights, stunning attendees with an awe-inspiring display of floral artistry. Over 49,513 stems of fresh flowers and more than 60,000 individual supplies were meticulously orchestrated, resulting in a breathtaking array of floral displays that served as the backdrop for a series of captivating presentations, elegant dinners, exclusive parties, immersive workshops, stunning showcases, impactful meetings, and a highly anticipated main competition. It was an extraordinary symposium that showcased the immense talent and creativity of floral designers, and our software platform played a pivotal role in ensuring the immaculate procurement and organization of all floral elements, further enhancing the attendees' experience and ensuring the symposium's success.
For this year's procurement chairs, Jenny Behlings and Lori Novak, Details Flowers Software simplified their lives by centralizing all aspects of procurement.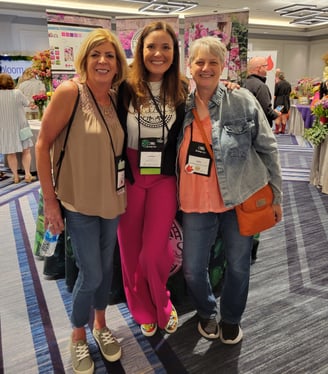 Procurement is not just a logistical task but an art in itself. It involves carefully organizing the finest floral resources, managing inventory, and associating costs, all while considering each event's unique vision and requirements. Our software platform empowered the procurement chairs with the tools and capabilities to navigate this intricate world confidently and easily. By providing a centralized hub for procurement, we allowed them to focus their energy on creating an exceptional attendee experience, knowing that the intricate details of supply selection and financial management were taken care of.
Let's delve deeper into the crucial role of procurement in creating an exceptional symposium experience:
Event planning of this magnitude is a monumental task, and the procurement chairs approached it with remarkable skill and dedication. Over the course of eight months of planning and coordination, they collaborated closely with our team to bring their vision to life. Each of the speakers for this year's Symposium received access to the Details AIFD account, where they were able to utilize the tools of the software to build out their sessions. This allowed the procurement chairs the ability to pull a full list of the items needed for each speaker into one simplified list!
Procurement is often an unsung hero of event planning, and the chairs' unwavering commitment to excellence ensured that every detail was noticed and executed flawlessly. From collaborating with presenters to coordinating the specific details of each presentation, they left no stone unturned, creating an immersive and impactful experience that captivated the audience's attention and left a lasting impression.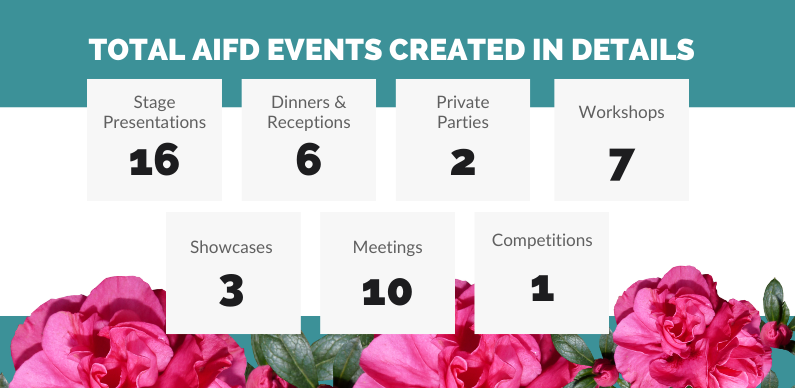 Financial management is crucial to any successful event, and the procurement chairs handled it with discernment. Budgeting and ordering for 45 events while collaborating with multiple farms and suppliers required vigilant planning and attention to detail. Our software's robust budgeting tools and the chairs' financial expertise ensured that the event stayed within budget without compromising quality or creativity. Their ability to strike the perfect balance between financial responsibility and artistic expression was key to the symposium's success.
Documentation played a vital role in maintaining transparency and facilitating smooth operations. The procurement chairs meticulously organized contracts, event schedules, invoices, and itineraries, creating a comprehensive overview that guided stakeholders throughout the event. This meticulous approach to documentation minimized potential hiccups and enabled efficient decision-making. Every detail was precisely documented, ensuring the symposium flowed seamlessly and fully immersing attendees in the experience.
Effective communication was at the heart of the procurement chairs' success. Constant communication with clients, presenters, sponsors, and the entire event team ensured that everyone involved was well-informed and actively engaged. Our software's advanced messaging capabilities served as a conduit for open lines of communication, reducing miscommunications and fostering collaboration. The chairs' commitment to effective communication strengthened the symposium's overall cohesiveness, making it a truly collaborative and inclusive event.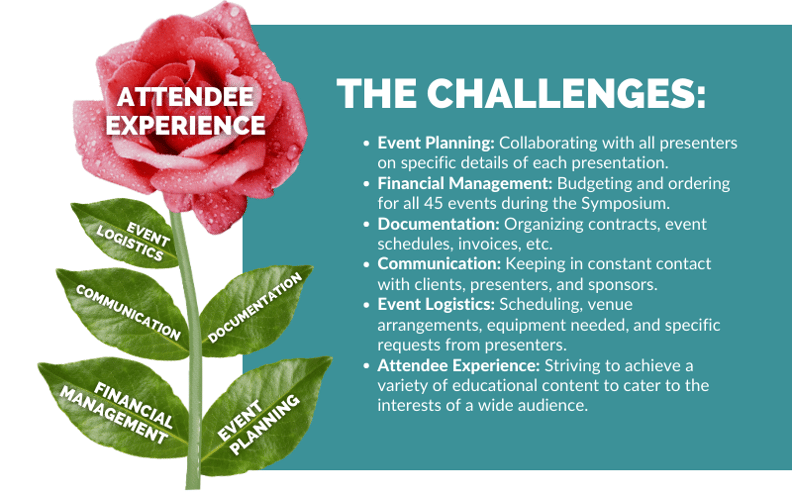 The logistics of organizing a large-scale symposium are complex and demanding. Scheduling, venue arrangements, equipment needs, and presenter necessities all require careful coordination. The procurement chairs worked diligently to handle every logistical aspect precisely, leaving no room for error. Leveraging our software's comprehensive logistics management tools, they orchestrated the event seamlessly, ensuring that attendees enjoyed a smooth and enjoyable experience from start to finish.
Ultimately, the goal of the procurement chairs was to create an exceptional attendee experience, and they achieved it with remarkable finesse. By gathering a diverse range of educational content that catered to a broad audience, they ensured that the symposium had a lasting impact on attendees. The symposium was not just a gathering, but a transformative experience that inspired, educated, and connected floral enthusiasts. The procurement chairs' commitment to delivering enriching experiences and their ability to connect with the AIFD designers and our team at Details Flowers Software made the event a true masterpiece, leaving attendees in awe and sparking their passion for floral design.

The collaborative efforts of the procurement chairs, the AIFD designers, and our team at Details Flowers Software made the symposium a resounding success. Together, we transformed challenges into opportunities and pushed the boundaries of creativity. It was an honor to witness their expertise and dedication firsthand, and we are immensely grateful to have had the opportunity to work with such exceptional professionals. Looking ahead, we are excited about future collaborations and the continued elevation of the symposium experience. Click here to read more about our 2023 AIFD experience!
In conclusion, the AIFD annual symposium is a testament to the power of collaboration and the transformative capabilities of Details Flowers Software. Through the skillful procurement management of Jenny Behlings and Lori Novak, the event became an unforgettable experience for all attendees. Their commitment, attention to detail, and flawless collaboration with the AIFD designers and our team elevated the symposium to new heights. The importance of procurement in creating a symposium that captivates, inspires, and connects cannot be overstated. We are incredibly grateful to have been part of this extraordinary journey, and we eagerly look forward to the future, where we will continue to innovate and elevate the symposium experience through our ongoing partnership with AIFD.