What a time to be alive…. and in the floral industry! We have more choices for floral foundations than ever before; and with more choices, come more considerations. The need to be eco-conscious is more crucial than it has ever been. The science is clear, we need to be kind to Mother Earth. For years now, many in the industry have taken up the "Foam Free" movement, with the intention of reducing waste and micro-plastics returning to our environment after our designs have perished. I have been following this movement closely. It has surely made me consider and reconsider the structure and mechanics that I use when I create my designs. When conceptualizing an arrangement now, instead of just reaching for foam, I contemplate if I could create the piece using a natural kubari mechanic, or if perhaps, I might be able to accomplish it with reusable chicken wire, a pin frog, or one of the three new media materials that are emerging.
The three new eco-conscious materials that have been developed in recent years are a brick composed of volcanic basalt rock (Sideau from Agra Wool or Fibrefloral from Smithers-Oasis), the Terrabrick from Smithers-Oasis, and the Oshun Pouch from New Age Floral. As I've watched these new products roll out and increase in popularity, I've been curious about how they all stack up against each other. I wanted to know how they would perform in an everyday floristry setting; how the flowers lasted, how easy they were to use, and if the costs of the media were inexpensive or prohibitive. I decided to commit to The Floral Foundations Experiment.
My goal was to test classic flowers, to use them in a way that a retail floral shop in Anytown, USA might use them. As I watched the experiment unfold, I imagined that they were all arrangements that had gone to Grandma. This Grandma is the kind of Grandma who loves flowers, and lets them live until the very last drop!
I added 2 stems each of Roses, Sunflowers, Carnations, Lilies, and Alstromeria to each of the foundations. The flowers were all received from the same source, at the same time, and processed with proper care and handling. I did not focus on creating aesthetically beautiful designs, instead, I aimed to get the flowers in the foundations to see how they performed.
I performed this experiment on a worktable in my home studio, with the temperature set to roughly 65 degrees for most of the day. I made my observations and took photos around the same time each day. I topped off all of the containers with water as needed daily. The flowers in the vase with water got a fresh cut and fresh water every other day.
With travel on my calendar, I had to cancel the experiment after 17 days, even though the last three samples standing still had a bit of life left to them. I honestly did not expect them to still be going so strong after so much time. Knowing the resilience of our medium, I shouldn't have been surprised, but the truth is that we so often design and deliver, and we don't get to seriously study how they live once they reach the recipient.
The Highlights:
Water treated with floral preservative was the clear winner, with the most blooms still looking great at the end of 17 days.
Green floral foam came in second, followed closely by the Midnight foam from Smithers-Oasis.
Sideau and TerraBrick followed, having to be pulled from the experiment after 8 days.
The Oshun Pouch advertises that it is "Optimized for Sympathy and Day-of arrangements", so I was very pleased to see that some of the flowers lasted 6 days.
The Considerations:
Water: The only cost to be concerned with is the floral preservative that is recommended to add during processing and subsequent refresh.
Green and Midnight Floral Foam: 75% biodegradable after one year, in an anaerobic environment. Typical wholesale cost: $1-2/brick
Sideau: 100% natural, made from basalt wool with plant-based starch binders. Stems sometimes require a pilot-hole to be made with a dowel prior to inserting. Typical cost: $2.50/brick
Terrabrick: Made with plant-based, renewable, natural coir, and a compostable binder. Reusable for plants. Typical cost: $9.50/brick
Oshun Pouch: Expandable pouch, 100% sustainable, biodegradable and compostable. Typical cost: $6/pouch
The following pictorial shows how the experiment unfolded and shares some of my personal commentary:
Day 1: Fresh & Fine
Day 2: One Sunflower and one Alstromeria drooping in the Oshun Pouch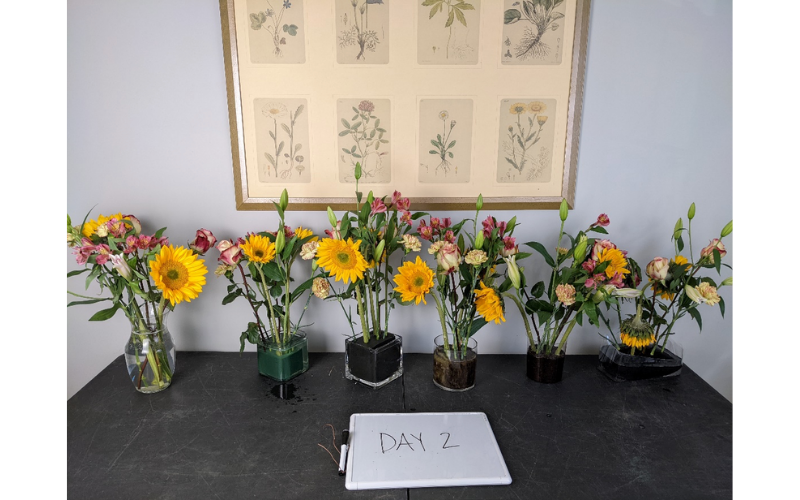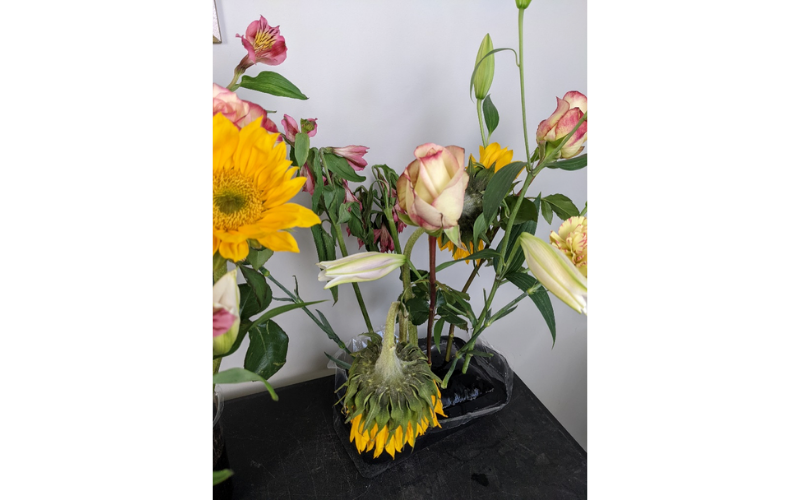 Day 3: The only noticeable change since Day 2 is some fading of one Sunflower in the Terrabrick.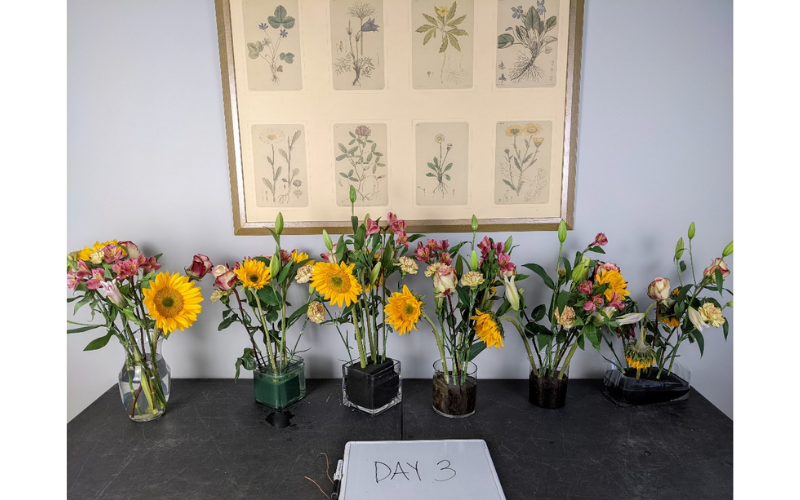 Day 4: Sunflowers in all foundations, except water, are showing stress. Those in the Oshun Pouch have crashed, those in Sidea and Terrabrick are showing more stress than those in foams.
Day 5: Sunflowers are spent in Sideau and Terrabrick. Lilies are starting to open in all foundations.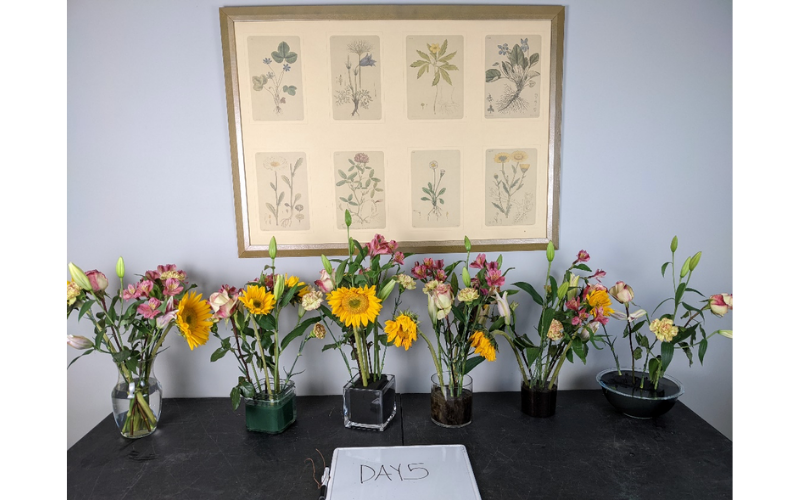 Day 6: Roses and soft to touch in Sideau, Terrabrick, and Oshun. Carnations and lily are perishing in Oshun. Lilies are opening beautifully in the water. I'm going to take down Oshun today but am very pleased with it overall, considering it is bill for day-of or short-term work only.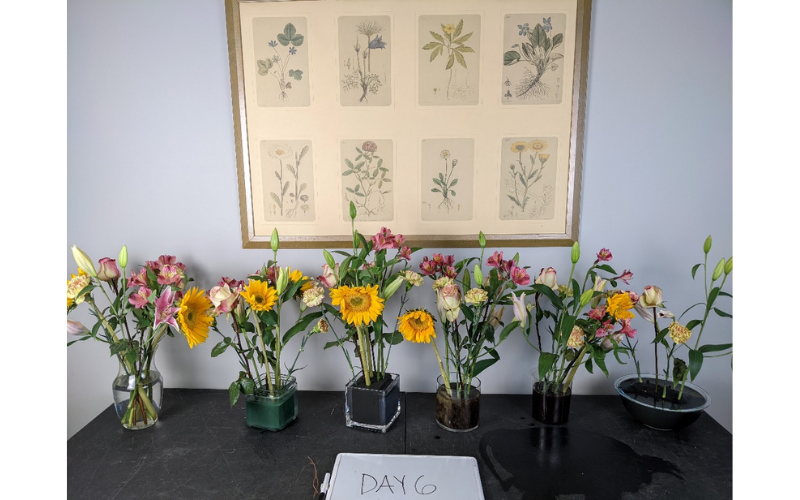 Day 7: While water is the clear winner, I'm just tickled at how well all of the other flowers are still doing. The trained eye can see the stress and feel the softness on the blooms that are perishing, but there's still beauty to enjoy.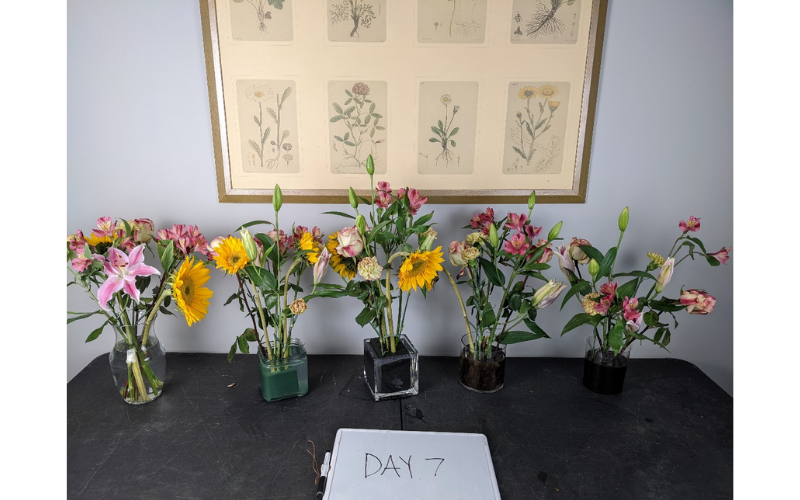 Day 8: Most blooms are still going strong!! Some roses are starting to show bent necks but are still enjoyable. Interesting fact: the Midnight foam "drinks" the most water!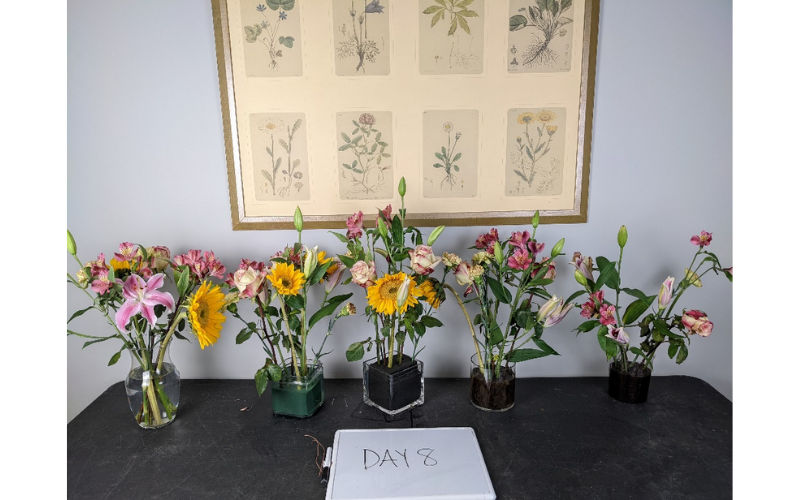 Day 9: After 8 days, there were minimal signs of life in the blooms that were in the Terrabrick and Sidea so I pulled those from the experiment. Some blooms have perished in the foam foundations, but most are still going strong.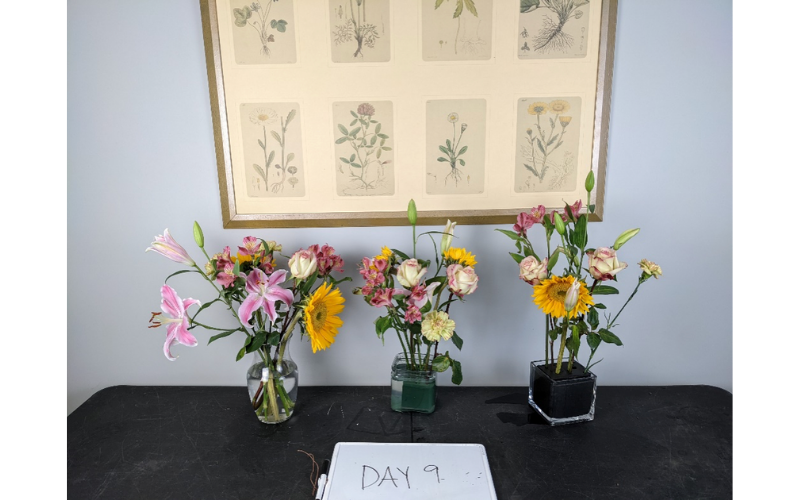 Day 10: Lilies in the foam are starting to open. The leaves on the stems in the foam are turning, but blooms still look good!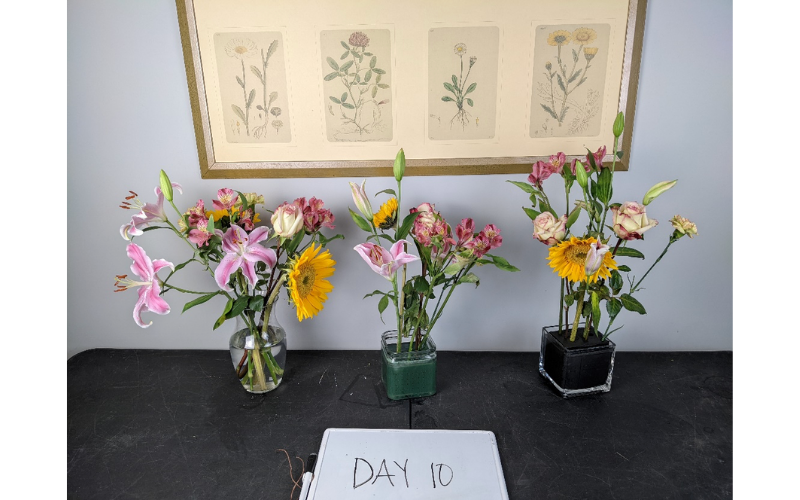 Day 11: Our three contenders are all still holding up superbly! Not much change from yesterday.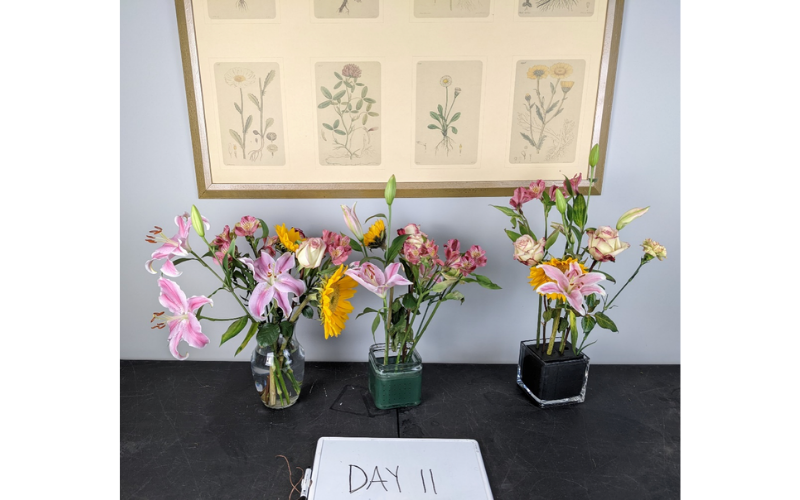 Day 12: I shouldn't be surprised by the lasting state of these blooms but I am! Most leaves are turning yellow and crisping, but all of these blooms still look great!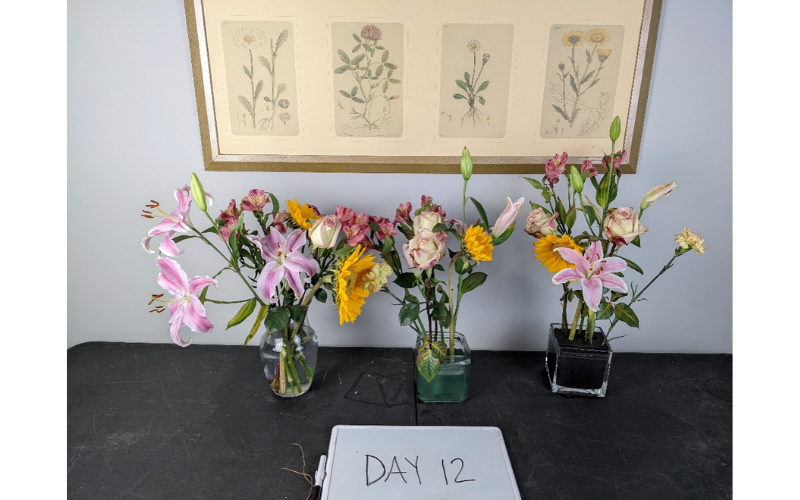 Day 13: Serious turning of the leaves now, and we've lost the 2nd Sunflower in the green foam, but otherwise still holding up like champs!!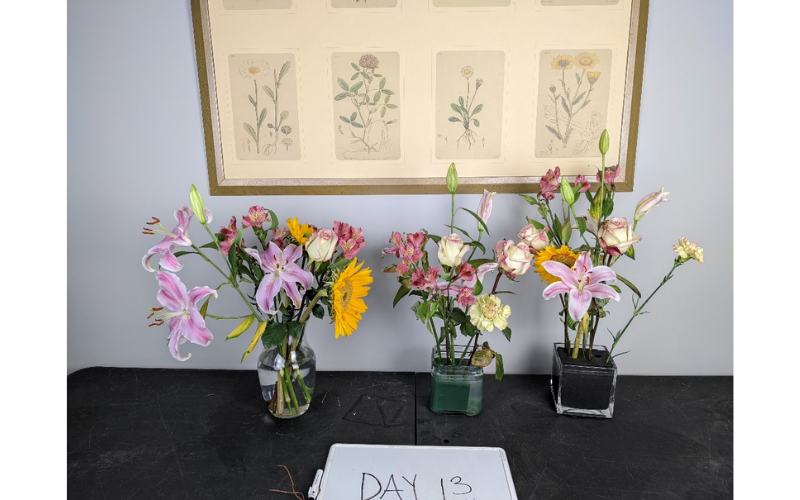 Day 14: Most blooms are soft to the touch and leaves are turning, but overall, still look great. I would suspect that the general consumer would still be enjoying the gifts that these flowers have to offer!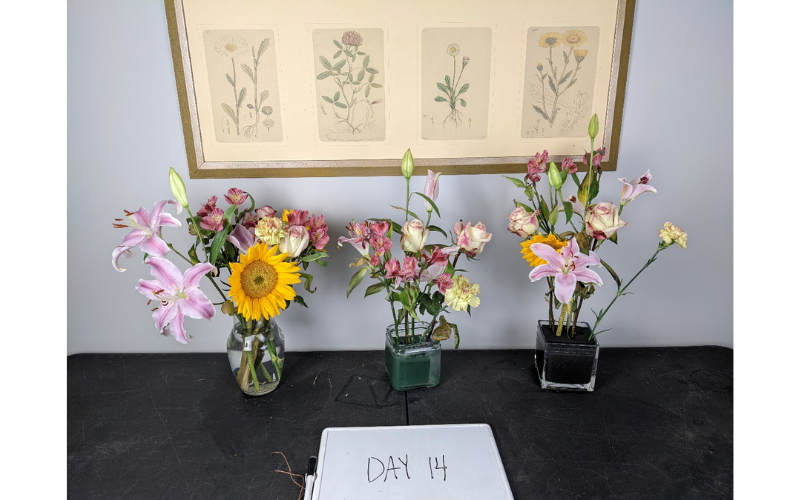 Day 14: Water close up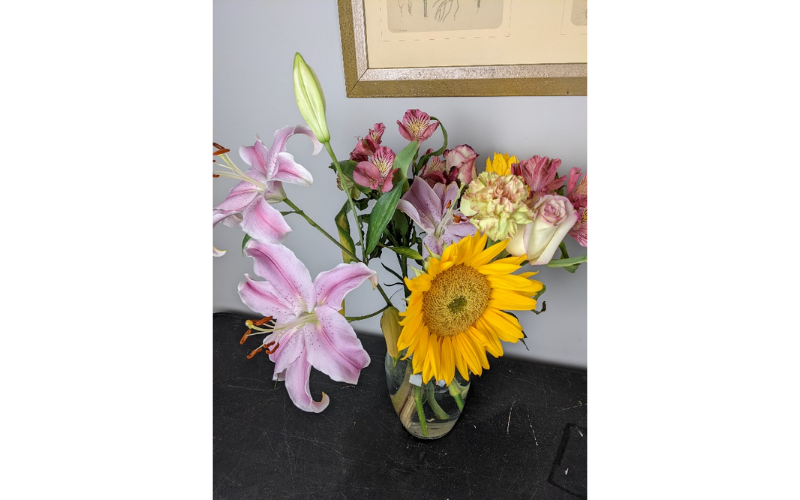 Day 14: Foam close-ups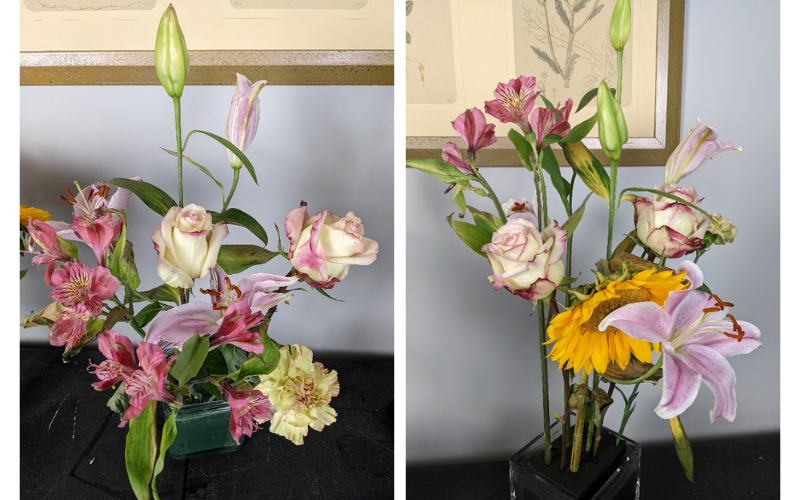 Day 15: Surprisingly, almost all carnations had to be pulled and open blooms from Lily in green foam discarded. Your grandma would still be loving on these blooms if they were on her table!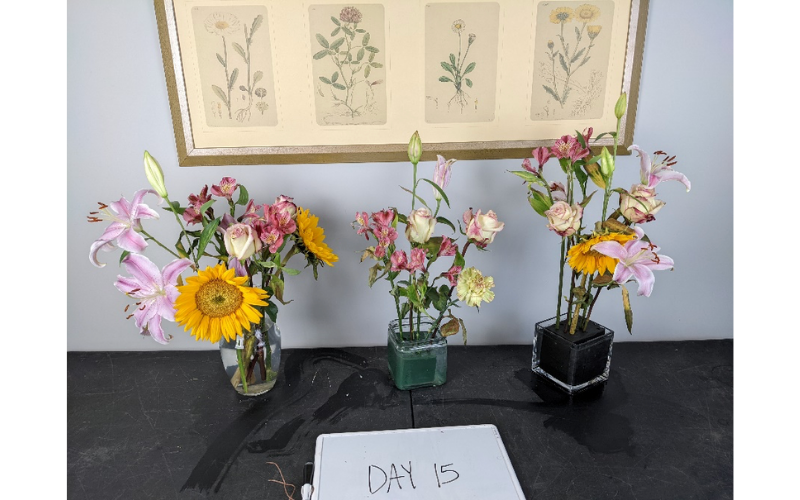 Day 16: Pulled the final sunflowers from the foam. Flowers that are left are definitely perishing but still show life. Interesting fact: the stems in the midnight foam de-leafed at a faster rate than the green foam or the water vase!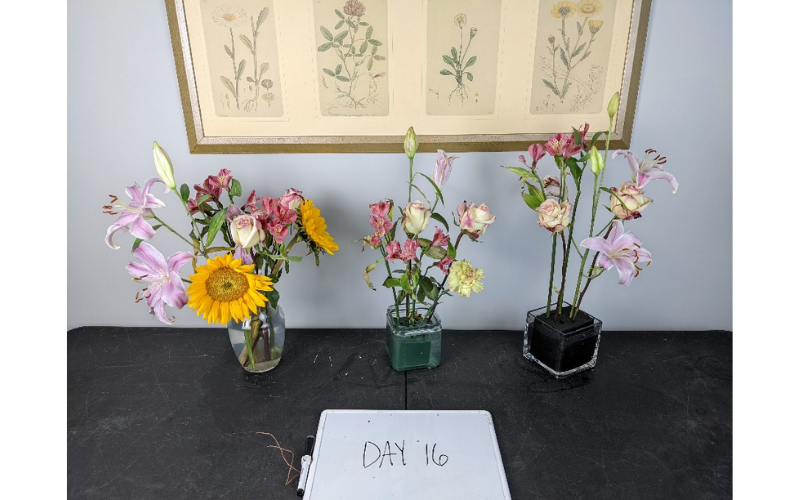 Day 17: Last Day! Although there are still slight signs of life in the blooms that are left, I'm ending the experiment today. The flowers in the water held up best, with the green foam coming in second, and midnight foam a close third place.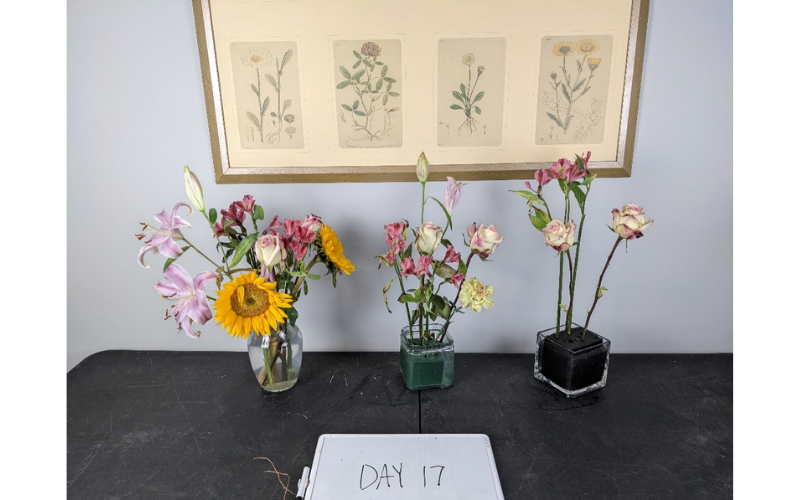 About the Author, Renee Tucci AIFD PCFI

"Flower nerd…yup, that's me!"
Renee Tucci hails from the suburbs of Philadelphia and loves all things flowers, especially learning about them and spreading her flower know-how. A few decades in retail has fostered a fierce customer service background. Ten years of management has shown her what it means to be a true leader and how to utilize the strengths of those around her. A dozen years of immersing herself in network circles that include designers at the top echelon of their craft has lead her to strive toward that too….something she will always be reaching for as there is never an end to learning.
Now an international educator, a presenter, a traveler, a bud to all flower friends that she meets, a freelancer, and a connector…this industry is truly her life!
Oh yeah….and Renee is a proud member of the American Institute of Floral Designers and the Professional Floral Communicators International!