What a fantastic time we had in Las Vegas for the AIFD Roots Symposium. We loved meeting and reconnecting with so many people from different facets of the industry. Details is the official procurement software of the whole event, and we really enjoyed seeing all the beautiful arrangements come to life. Thank you to AIFD for letting us participate in such a monumental event in the floral industry! Here is a recap of our experience at the event!
"At ROOTS, we are honoring our EDUCATORS past and present. Our 2022 esteemed roster of presenters and educators have taken on the commitment to TEACH. They will inspire and enlighten by sharing their most valuable lessons; inspiring floral design ideas with an innovative method of teaching. Through passion, imagination, and incorporating new technology, healthy ROOTS will continue to thrive to GROW the future of floristry." (AIFD)
After months of planning and preparation, AIFD Roots Symposium kicked off July 4-9th in Las Vegas, Nevada. As the procurement software of the event, it was so exciting to grow with all of the designers and see all of their finished hard work. A true job well done to everyone involved! 

We had the pleasure of attending our floral friend, Jenny Thomasson's book launch party! Her new book, Endless Florescence: Transformative Contemporary Dried Floral Design, is all about dried florals. Jenny worked so hard to create this new book–make sure to visit her site and purchase your copy today!
At the symposium, we got the opportunity to fully represent Details. We met so many incredible designers and ran into some of our fabulous customers! The schedule was packed with Main Stage sessions. A few designers that presented were Hitomi Gilliam, Renee Tucci, Susan McLeary, Hallie Morrison, Jorge Uribe, and so many more! The sessions were so informative and well worth attending. If you would like to see the entire program schedule, click here!

FTD America's Cup

The 2023 Interflora World Cup is the most renowned flower design competition in the world. The winner of the national FTD America's Cup competition will represent FTD and the United States at the event. Before a crowd of their peers, ten carefully selected contestants will square off. For the right to compete at the 2023 Interflora World Cup in Manchester, England, they must overcome pressure, deadlines, and one another in the 2022 FTD America's Cup at AIFD Roots!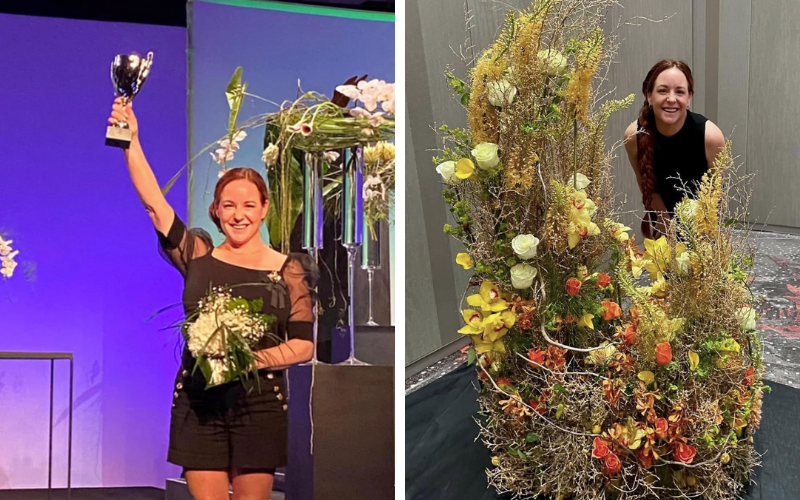 Our friend Jenny Thomasson won the prestigious honor of representing the United States in England next year. Check out her experience and how she created her designs on her social media.
"Well, first off.. I'm typically an early riser, but on these days, I'm ultra early. My mind was racing and filled with excitement. 4:30 wasn't out of the norm! Sunrise walks to get a few miles in and downstairs by 7:45 for the brief to get the competition started.
Task 1 – Our own prepared designs that each of us (10 competitors total) had to have shipped to our location. The theme was "Rooted in Texture," and I created a Tumbleweed deconstructed sculpture. Steel and plaster base, rope, glass tubes, metal, plastic and gold leaf. (I'll make a reel about the process and post it later!) We were given 1:30 hours to complete our designs and present to the judges.
After a short 55 min break, we are back and ready to roll!
Task 2 – Surprise package #1 "Sprouting with creativity," where we had to use a container provided and create a distinctive floral arrangement that is rooted in the vessel. We were given 1:30 hours to complete this project and discover what we could come up with using items already provided for us.
Cue the second break of 1:55 mins, where we grabbed some liquid energy and ready to finish with the final challenge of the day.
Task 3 – Surprise package #2 "Naturally Hand-Tied," where again, all of the items there for us, each competitor reviewing the exact same materials as each other and discover how to make a distinctive armature that would allow our creativity to soar to new heights. 2 hours were given for this project.
After an hour of judging, there was an announcement of who had made the final four from the 3 tasks of the day. After, we all had to move our arrangements into the gallery so the attendees of AIFD symposium could view them the following days.
The next evening—
Task 4 – "Tapestry of the World" using a metal screen and our own creativity on the spot and in front of a live audience for 1:45 minutes.
All of these tasks difficult and exhilarating. I would do this over again for sure! Not only was it challenging but I throughly enjoyed watching what everyone and myself came up with. It's really amazing what our creativity can do when we are faced with these challenges, time frames, regulations and competition."
Congratulations to Jenny and all of the designers that participated in this competition!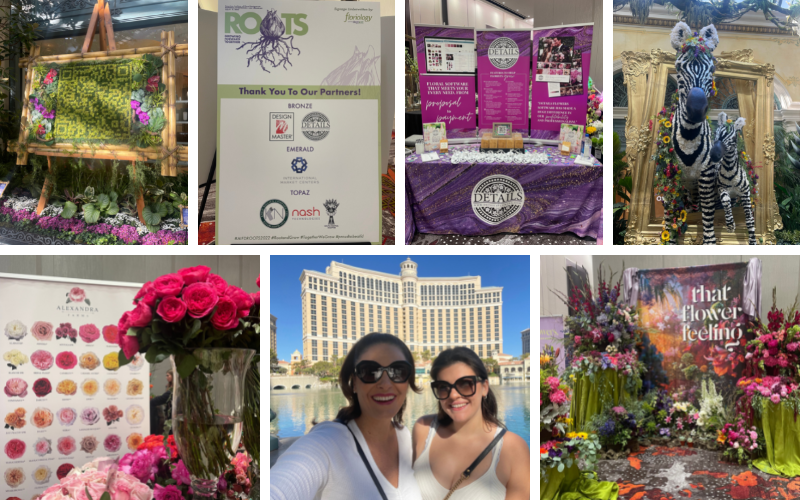 We had such a wonderful time at this year's AIFD Symposium. Make sure to be on the lookout to register for next year's event–we cant wait to see you there!