Discover the latest additions to Alexandra Farms' collection with their new Garden Roses and Dahlias, now available on Details! Elevate your upcoming events with eleven stunning Garden Roses and nine exquisite Dahlias to choose from. Take a look at these beautiful products below!
Deluxe Garden Roses
Cafe Latte –  As its name suggests, there's no other comfort quite like the light mocha and mauve petals of Café Latte. This much-loved variety has a unique color, shape, and fragrance. Her strong lavender scent emits through layers of spiral-petaled blooms for a sophisticated and surprising touch. This highly sought-after variety is a true delight! 


Just Magic – Waves of sand-colored petals are touched lightly by the reflection of sunset pink in the Australian-bred Just Magic's ethereal blooms. Each rose is uniquely toned but effortlessly chic. With a large bloom and long vase life of 10 days, Just Magic is an essential addition to any dreamscape design.


Menta – Menta's sophisticated light lavender bloom opens slowly to reveal an earthy, quietly elegant flower. Her sharp-edged petals are mysterious and intriguing, and her spiral bloom opens wide into a large, starry-pointed flower with an exceptional vase life of 12 days. Menta is a standout among the sought-after selection of neutral-colored roses.


Notre Dame – Notre Dame boasts an interesting juxtaposition of lavender, sandy pink, and gray-centered buds that uniquely melt into a light mint green. Like watercolors on a canvas, the spiral petals blend effortlessly together to create a fluid transition. A 12-day vase life helps this Dutch-bred variety make a lasting impression.


Symbol – Richly colored blooms of dark tan with edges dipped in dark, earthy pink make Symbol a dramatic bloom that begs for the spotlight. Her large, long-lasting flowers open widely, holding their shape with tightly furled petals at the center and graceful curves on her edges. This Dutch-bred beauty is a showstopper!
David Austin Wedding Roses

Bessie – Bessie's (Ausperidot) buttery cream-colored petals form the quintessential English garden rose. She has a deep, symmetrical cup shape with 100 petals carefully furled inside. She is a consistent performer and opens 90 percent over several days. Bessie is a dignified and timeless classic with her large, warm blooms and light floral scent.
Princess Garden Roses

Princess Hoshi Spr – Buttery yellow melts into the heart of Princess Hoshi Spr's enveloping white spiral petals. This long-lasting rose will provide a touch of warmth to any design or stand confidently alone to make a statement. Her tasteful petite blooms conjure an appetite for the savory addition of botanical greens or whimsical whites and creams to create the perfect arrangement. Each stem of this Japanese spray variety has five blooms. Princess Hoshi Spr is only available through Alexandra Farms.
Dahlias
Alexandra Farms grows dahlias all year long. They provide a variety of breeds created by two breeders specifically for the cut flower market. They selected dahlia cultivars with a longer vase life and reliable reliability, much like they do with garden roses!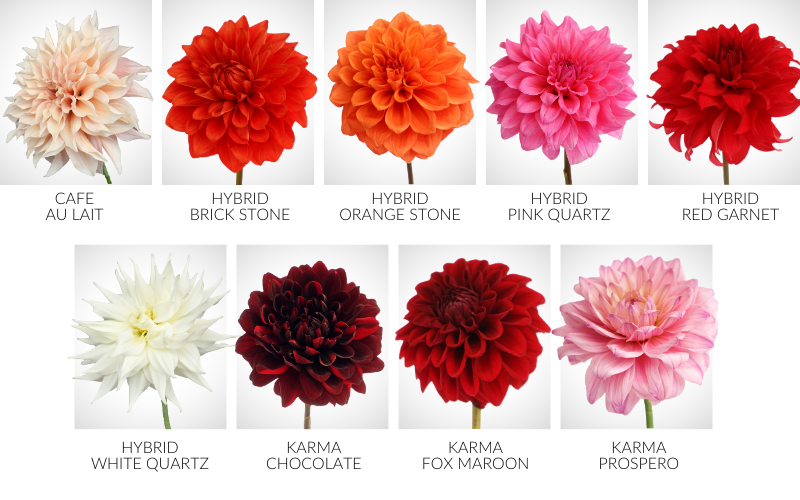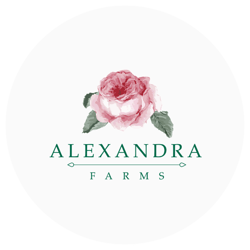 About Alexandra Farms 
Alexandra Farms is a boutique grower specializing in nostalgic, romantic, fresh-cut garden roses and dahlias. The farm is located in the fertile savanna of Bogotá, high in the Andes Mountains of Colombia, where the warm days and cool nights are perfect for growing flowers. Their garden roses and dahlias are grafted, harvested, graded, bunched, and packed by hand. 
Alexandra Farms grows an assortment of roses of many different colors, shapes, and sizes that were bred in France, Germany, Spain, the Netherlands, and Denmark. These varieties make up the Alexandra Farms Deluxe Garden Rose Collection. As the largest of four licensed David Austin® growers in the world and the only one in Colombia, they offer 16 of the most romantic English garden roses in the David Austin Wedding Rose Collection.
Eight unique garden roses bred for the Emperor of Japan make up the Princess Japanese Garden Rose Collection. The Wabara Garden Rose Collection is a branded line of three very special Japanese garden roses developed by breeder Keiji Kunieda.
They grow 12 varieties of dahlias with desirable shapes and colors and long vase life. Alexandra Farms currently sells to select importers and wholesalers in the USA, Canada, England, Belgium, France, Germany, Switzerland, Japan, and more.
Discover your new wedding favorites in the Details Item Gallery or on the Alexandra Farms Online Catalog.
We are so excited to see what you will create with the new items from Alexandra Farms! Remember to tag us (@detailsflowers) and Alexandra Farms (@alexandrafarms) so we can see your designs! 

Want to submit a recipe using Alexandra Farms' newest products? Visit this blog here for more information on submitting your recipe to be featured on Details!