We Are Perennials is an organization that assists those struggling with a fractured life to restore, reclaim and rebuild through the power of nature, flowers, and art. Yoli LaGuerre founded this organization to help those in need one flower at a time. We had the privilege to have Yoli as our July Masterclass Guest, and we would love to introduce you to We Are Perennials.
When someone says, "We Are Perennials," they emphasize the idea that they, or a group they belong to, possess enduring qualities that persist throughout different phases of life or challenging situations. It suggests a strong and unwavering nature, capable of withstanding the test of time.
This phrase is often used to describe individuals or communities that maintain a sense of continuity, strength, and vitality despite facing adversities or undergoing significant changes. It can also imply a sense of interconnectedness, emphasizing that certain shared traits or values unite a group or generation. In summary, "We Are Perennials" highlights certain individuals or groups' resilient and timeless nature, likening them to perennial plants that continue to grow and thrive year after year. That is exactly what Yoli's initiative is to bring this cause to the attention of our industry and those who need support most. 
We Are Perennials offers many programs. Here are just a few that they offer:
Floral Workshops
Floral workshops are offered as a type of creative therapy, giving participants a day filled with joy from flowers. We Are Perennials will provide all the supplies, flowers, and tools participants will need to create a floral arrangement. After the workshop, participants can keep their creations to enjoy. All participants will receive all materials, including tools and fresh flowers, at no additional cost. We Are Perennials will use any funds it has raised to cover the full cost of all workshops. Workshops will be held on-site at domestic violence facilities and rehabilitation centers across the country and the world.
Scholarships
To give participants a chance to start a career in the floral and horticulture industry, We Are Perennials will offer scholarships to those interested in attending continuing education seminars.
List of Disciplines Offered
Floral Design / Artistry
Landscaping
Gardening
Horticulture
Small Business Grants
Participants may apply for a We Are Perennials grant to help with startup fees if they decide to establish their own businesses. 
How To Get Involved
Donating to We Are Perennials is a great way to support the organization. By keeping control over financial resources, denying victims access to money, and prohibiting them from working or attending school, domestic violence also includes economic abuse, which leads to financial dependence as a way of control. Your gift will allow survivors to take advantage of several possibilities to acquire a skill that will enable them to support their families financially. Here is the link to donate.
About Yoli LaGuerre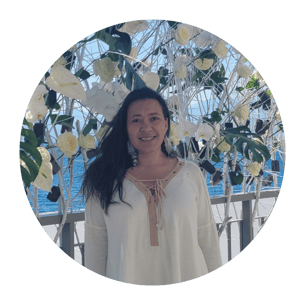 Yoli LaGuerre, Cfd, AIFD EMC, is an award-winning floral designer and entrepreneur with over 25 years of experience. She has owned and operated multiple retail flower shops and currently runs Yoli LaGuerre Fine Flowers in New York and Colorado. Known for her artistic floral designs, Yoli has worked with celebrity clients, participated in international flower competitions, and contributed to prestigious events worldwide.
Alongside her success, Yoli is an active member of the American Institute of Floral Designers (AIFD) and holds the European Masters title earned in Belgium. She continuously expands her skills through various art and floral classes, including studying at the renowned New York Botanical Garden. Committed to making a difference, Yoli is building a nonprofit foundation called "We Are Perennials" to support survivors of domestic violence and individuals in substance abuse rehabilitation by providing education scholarships, mentorship, and job placement opportunities. Her passion, ambition, and dedication to her craft have been instrumental in her longevity and continued achievements in the floral industry.
Watch the full masterclass replay with Yoli LaGuerre and Corrine Heck below!