We enjoyed having Irving Casiano of Flower Shop Network as our month's Masterclass guest! We had a great time learning all about Flower Shop Network. You might have seen Flower Shop Network at many industry events, but have you ever wondered about their services? If you could not join us this month, here is a recap of what you missed! 
What is Flower Shop Network?
Flower Shop Network is an online business that serves as a floral service and a directory for finding local florists. In 1997, Brock and Loranne Atwill, the owners of Flower Shop Network, seized an opportunity to establish a flower shop in Paragould, Arkansas. Loranne, who had served as the Chief Financial Officer (CFO) of Redbook Florist Services, a floral wire service, for more than 13 years, was eager to explore the retail aspect of the floral business. With Brock's expertise in marketing, they started their flower shop venture.
Before long, Brock and Loranne gained valuable insights into local florists' challenges in a rapidly changing market. They understood the obstacles that made it challenging for consumers to identify genuine local florists. Additionally, they recognized the limited availability of effective resources, particularly online, to support locally-owned florists in their efforts to thrive. 
Benefits of Flower Shop Network

Florists can become members of Flower Shop Network to access the various services and benefits offered by the company, including access to their online marketplace, order relay service, and technology solutions. Flower Shop Network offers an order relay service that connects local flower shops with orders placed by customers from various sources, including online orders and wire services. This service helps florists receive additional orders and expand their customer base. FSN provides technology solutions such as website design and e-commerce platforms tailored for florists. These tools help florists establish and manage their online presence, accept orders online, and streamline operations. 
Flower Shop Network can help your business stand out in your area. Here are some of the incredible benefits of becoming a member of Flower Shop Network:
Website Design

Automatic Reminders

Website Updates 

Delivery Confirmations

Email Marketing

Social Media Services

Google Services

A library of 1,000 images for florists to use on their website

And so much more!
Flower Shop Network does not ask for any of the florists' profits or penalize florists for incomplete orders. This is a huge advantage over other platforms in the industry! Although located in Paragould, AR, Flower Shop Network's reach extends throughout the United States, Canada, Mexico, and Puerto Rico.

Additional Resources 
FGmarket is the perfect place for florists to research suppliers and vendors that are trusted partners of Flower Shop Network. Discover new wholesalers at your convenience without the need to wait. FGmarket is accessible around the clock and can connect you with numerous wholesalers; the potential for your business becomes limitless whether your requirements include gourmet food, home decor, floral supplies, or gift items. With its diverse range of product lines and suppliers, you're certain to discover offerings tailored to every customer's needs!
We would like to thank Irving and Cindy for joining us this month! If you want to learn more about Flower Shop Network, contact Irving at 800-858-9925, Extension 148, or [email protected]. Tell him that Details sent you!
About Irving Casiano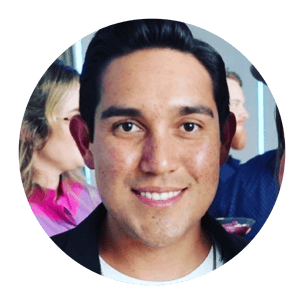 Irving Casiano is originally from Northern Mexico and came to the United States in 2003 to pursue the American dream. When Irving and his family first arrived in the United States, they did not speak
English. Through hard work and dedication, Irving graduated from Senath-Hornersville High School (Missouri) as Salutatorian in 2008. Irving obtained a bachelor's degree in mathematics from Newman University (Kansas), where he graduated in 2012 with honors. Irving was also crowned Newman University's Homecoming King.
Mr. Casiano works at Flower Shop Network, Inc., where he received numerous awards for outstanding performance, including the prestigious Salesperson of the Year Award. Despite his young age, Mr. Casiano has accomplished great floral industry accomplishments. In 2022, the Great Lakes Floral Association named Mr. Casiano Supplier Employee of the Year.
Irving's career in the floral industry goes back ten years. Since joining Flower Shop Network, he has
participated as a supplier at several floral conventions, such as Great Lakes Floral Association, Texas
State Florists Association, Florida State Florists Association, Tennessee State Florists Association, SAF
Annual Convention, SAF Profit Blasts, Next Gen LIVE, and many more.
In 2018, Mr. Casiano attended Congressional Action Days in Washington, DC, where he lobbied for
Agriculture, Floriculture, and Immigration Reform. In 2019, Irving had the privilege of attending the U.S.
Senator Debbie Stabenow's Hall of Fame induction ceremony in Lansing, Michigan. Irving loves the floral industry, loves traveling, and enjoys community involvement. Irving is a member of the Northeast Arkansas Hispanic Professional Network, Paragould Chamber of Commerce, and Paragould Young Professionals and is an alumnus of Paragould Leadership Class XXIII.