This July, our team attended the American Institute of Floral Designers (AIFD) Annual Symposium in the windy city of Chicago! It was amazing to reconnect with so many of our floral friends, and introduce our team to so many customers during the Partner Showcase.   If you missed it, you missed a great time.  Here is a recap of our few days in Chicago at this year's symposium- Grow! 
First and foremost, we were honored to play an instrumental role in ensuring the seamless organization and procurement of the blooms that adorned each stage, classroom, and event space with some of these volunteers. For the fourth year, we worked with the Procurement Chairs (Lori & Jenny) & Show organizers to help them calculate a week's worth of magnificent floral theatre!  This is not an easy feat, but luckily, this is what Details is especially designed for!  All 45 presentations came together, and it was great to be a witness to their designs and final pieces.  We look forward to showing you more of these designs throughout the year.
Images: Corrine Heck with Jacob McCall AIFD (L); Lori Novak AIFD (Fresh Flower Procurement Chair), Corrine Heck PFCI, CEO of Details Flowers, and Jenny Behlings AIFD (Hard Goods Procurement Chair)
While we enjoy working with the designers to teach them about Details, working behind the scenes with the AIFD team provides us with tons of knowledge about the complex needs of large-scale events like Grow Sympoisum.  This helps us add tools to improve the software and hear from so many different people and their unique design styles.  We truly appreciate the unwavering support and collaboration of the team at AIFD to allow our technology to help with this event year after year as a Gold Sponsor!
Day 1
Our first day was beautiful, as so many things were already put together when we arrived at the Hilton Chicago.  Entering the symposium was like walking into a flower paradise! Once we arrived, we set up our display for the vendor showcase and started meeting all of our floral friends. The atmosphere was buzzing with excitement and anticipation for this year's event. We loved seeing the designs and booths as we explored the exhibition hall. And what was truly remarkable for the four of us from Details (in Daytona Beach, FL) is that we felt right at home as the Nascar events were zooming thru Chicago's streets directly outside of our hotel.  What a surprise for us and all the floral enthusiasts to see this first hand.  

Whenever we travel to a new city, we love to explore some of the notable architecture like The Bean, and dine at some of the best restaurants,  for the evening and saw the iconic Bean! We had a great time adventuring the city and preparing for the fun days ahead. 
Day 2
The symposium also offered a lineup of speakers who shared their wisdom, experiences, and insights into the industry. We were captivated by their stories and inspired by their passion for floral design. From discussions on sustainability to the business of flowers, the speakers covered a wide range of topics, providing unique perspectives that were interesting to learn about.
Our CEO, Corrine, presented a "Call To Action" to kick off the morning educational sessions. The Call To Action presentation was a must-attend for aspiring Mainstage Designers who want to excel in their presentations. It focused on the requirements for creating a captivating stage presence and successful procurement plans. Attendees learned valuable skills to save time, stay organized, and maximize their design careers. This session covered essential organization tools, from optimizing costs and coordinating color palettes to preparing design teams for large-scale installations for the Annual Symposium, all achieved with Details Flowers Software! Download our Call To Action PDF with an overview of what we covered in the presentation!

One of the highlights of the AIFD Annual Symposium was the wealth of educational workshops and demonstrations led by esteemed floral designers worldwide. The sessions delved into diverse aspects of floral design, from mastering techniques to exploring innovative trends. 
Another highlight was the Partner Showcase, where we met so many fellow floral enthusiasts. From educators to designers and vendors, it was an incredible time to learn about everyone's business and life in the industry.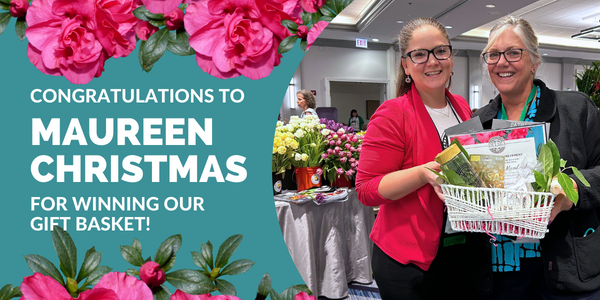 Images: Maureen Christmas winner of our giveaway prize, which included an Annual Membership to Details, Meraki Shears, Patria Candles, and an assortment of flower goodies!!
Starting off Day 3, Corrine presented "Wake Up To Profitability."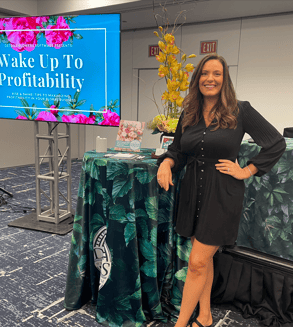 She dove into her top strategies for boosting event business revenue and helping participants save time. Attendees had the opportunity to join this informative morning session and learn valuable insights.  "Wake Up To Profitability" was specifically designed for florists and event designers who aimed to save time and increase business profits. With her own experience as a floral business owner, Corrine shared her top ten strategies during the session, providing attendees with actionable tips to enhance their event businesses' success. Download the Wake Up To Profitability PDF here!
The AIFD Annual Symposium was a melting pot of talented florists, designers, and industry professionals from around the globe. The symposium provided ample opportunities to connect with like-minded individuals, creating new friendships! Attending the AIFD Annual Symposium in Chicago was an unforgettable experience!
Thank you to all of those involved in making this event possible. The symposium showcased the industry's extraordinary talent and innovation. We are so grateful for the opportunity to sponsor and aid in the procurement process for this incredible event. We look forward to seeing everyone again next year in Orlando!