We had such a fun conversation with Nicole Palazzo about her experience in the floral industry and the upcoming Society of American Florists NextGen LIVE Event! If you could not join us for the session, here is a full recap!
Nicole grew up in the floral industry and would travel to conventions with her family. She would be fully immersed in the flower world but not see a connection with peers her age. While attending a Society of American Florist event, she had the opportunity to present her idea of a community where the younger generation of industry professionals can network. 
What began as a small get-together at annual conventions grew into a nationwide group both online and offline. The creators of this event could not be more excited to share with you with incredible experience! 
The Society of American Florists' NextGen LIVE! Event is designed to inspire young floral professionals with the depth and breadth of the floral industry. The new event, from Jul. 31 to Aug. 2 in Miami — the epicenter of North America's flower imports — was planned by and for floral pros age 45 and younger from all segments of the industry and includes educational sessions and time to network.
In addition to 12+ educational sessions and networking time, attendees will take a behind-the-scenes tour to follow flowers from the tarmac at Miami International Airport to a wholesaler and bouquet maker.
Educational sessions will focus on enhancing productivity and leadership skills. See the full schedule here.
The productivity sessions are:
High Impact, Low Labor, and Reducing COGS Design Program: Learn from seasoned design pros how new design trends, techniques, and mechanics will increase efficiency and productivity across your design team.

Social Media Hacks: Learn strategies you can put into practice right away, how to use TikTok effectively, and how to make a REEL or TOK!

Photography for Social Media and Your Website: Learn how to set up, light efficiently, and photograph your product and the tools you'll need to make it happen.
The leadership sessions include:
What's Your Leadership Style?: Understand yourself and your team and the traits that impact each person's response to expectations to be part of a happier, more productive, and more creative team.

How to Lead When You're a Young Boss: Learn communication tools for multigenerational leadership, how to be a young boss and earn respect, and how "expectations" shape your reality.

Expanding Your Brand: Learn how renowned floral industry brands from all segments created and maintained a brand, built brand loyalty, and incorporated that brand into their business model.
This is the ideal time to invest in your younger employees and teach them the ins and outs of the floral business. Understanding how each sector functions will help the industry grow most efficiently. There are so many moving pieces, from shipping to order processing to actually creating the designs, that it's simple to take some aspects for granted. 
Here are helpful links to learn more about Next Gen Live, the CalFlowers Fun 'N Sun Event, and the SAF Annual Convention. If you attended any of these events, please find us and say hello!
We want to give a big thank you to Nicole for her knowledge and for taking the time to tell us more about this exciting new event. Click the photo below to watch the entire June Masterclass–you do not want to miss the great conversation!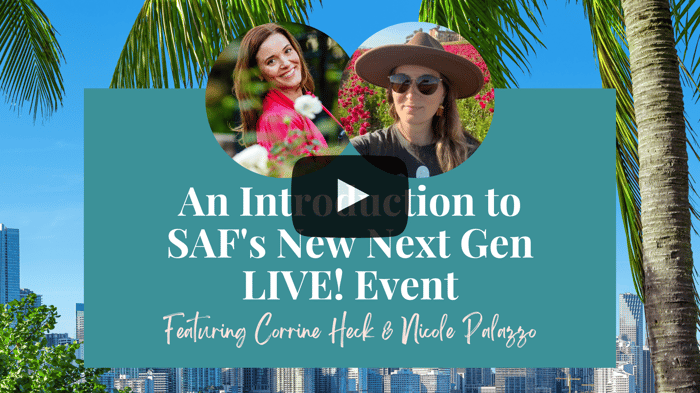 About Nicole Palazzo

Nicole Palazzo AAF is the Director of Marketing & new product development at City Line Florist in Trumbull, Connecticut. The family-owned retail florist has been operating for 104 years, and Nicole is the fourth generation. She is proudly the founder of the Society of American Florists' Next Gen Group and is thrilled to have the inaugural NextGen Live conference at the end of July. She is currently on SAF's Retail Council and, has served on many task forces & has been a speaker at multiple SAF conventions & AIFD symposiums. In addition, Nicole is the past president of the Connecticut Florists Association, is a member of the Floral Midwest peer group, a board member of the Connecticut Unit of Teleflora, & the CalFlowers convention planning committee.
Nicole was named "40 under Forty" in Fairfield County Weekly & was "35 under Thirty-five" by Florists' Review in 2018. Her expertise lies in marketing, social media, product merchandising, and sales. This September, she will be inducted into the American Academy of Floriculture. Nicole's free time consists of traveling the world to visit other flower shops and flower farms to continue learning and fulfilling her passion in our industry.