This past weekend, our team made the two-hour drive up to Jacksonville, Florida for the 2023 FSFA Convention! It's always amazing to reconnect with so many of our floral friends. If you missed it, you missed a wonderful event! Here is a recap of our few days in Jacksonville at this year's convention!
The Hyatt Regency Jacksonville Riverfront Hotel was the most perfect location for the FSFA 2023 Annual Convention. We arrived early Friday evening and quickly began getting ready for the Welcome Reception and President's Vendor Appreciation Mixer. 
Images: Corrine with Details team members (Avery and Olivia); Corrine with Derek Woodruff AIFD, PFCI; the Details booth at the convention trade show
Day 1
Saturday was a full day of workshops, presentations, meetings, and more! The girls started their day early with the Vendor Challenge. During this time, registrants were able to walk around the Trade Show and interact with all of the vendors. We enjoyed meeting all of our new floral friends during this time and seeing all of the extravagant booth designs in the exhibition conference room!
Our next stop was a Main Stage Design Presentation with Keith White AIFD, who spoke on "American Floral Trends". Keith talked the audience through current and future trends, covering everything from design to color. 
A delicious lunch was served in the ballroom, as Guest Speaker Renato Sogueco AAF, PFCI with Bloomnet, captivated us as he spoke all about "Business Technology today". Lunch was followed by more networking time, where we continued to mingle with florists from all corners of Florida. During this time, we also hosted a raffle, where we gave away a free three-month subscription to Details!

Images: Corrine with our raffle winner, Joyce Petty from Atmore Flower Shop
Later that evening, we enjoyed a beautiful Cocktail Reception, followed by the President's Gala Awards Dinner and Dance with all of the convention attendees. During the awards ceremony, many well-deserved artists and industry volunteers were recognized for their contributions to the floral industry. Saturday evening was one of the highlights of this year's FSFA Annual Convention, as we watched the sun go down along the river and caught up with some of our favorite industry friends!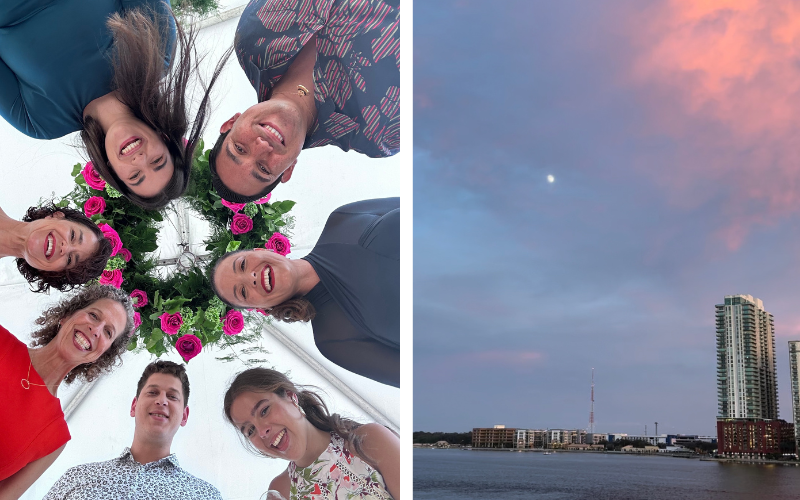 Images: Group selfie at the evening cocktail party along with the rooftop sunset view
Day 2
Sunday began early with a 9 am presentation from our good friend Derek Woodruff AIFD, PFCI.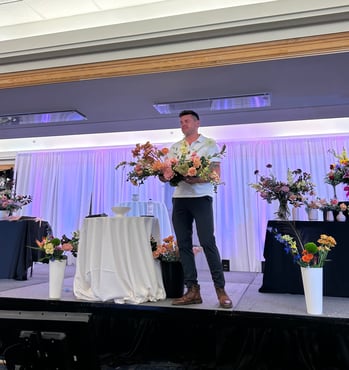 Derek spoke on "The Art of Pushing Everyday Design to the Next Level". Sponsored by Syndicate Sales, he demonstrated countless floral tips and tricks while interacting with the crowd, all about the importance of brand strategy!
We wrapped up our day by watching the International Design Finale. The Design International Challenge was introduced during the pandemic of 2021 to engage florists in what they love – Floral Design. After all the entries were received, a panel of International judges selected the Top 10 designs. These top 10 went on to have their designs voted on by the world. Over 2500 votes were cast from 23 countries encompassing 6 continents. After the worldwide vote, the top 3 designers were brought to this year's convention in Jacksonville, Florida, to compete in a live challenge where the winner was determined! The three finalists, that we had the privilege to watch live, were:
Ana Wawrzynak from Smardzewice, Poland
Edana Yen from Petaling Jaya, Selangor, Malaysia
Debra Sherwood from Oswego, NY, United States
We were captivated for the entire 60 minutes of the challenge as the designers focused on each and every detail. Ana Wawrzynak stole the show with her unique design strategy, where she incorporated diverse materials, from florals and greenery to yarn and bamboo!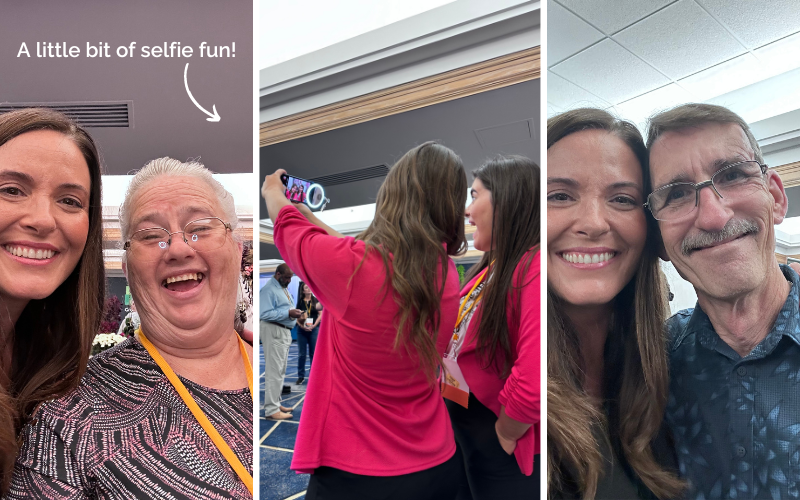 Images: Corrine with a customer; Details team members (Avery and Olivia) using the Details ring lights; Corrine with Bob Tucker AIFD, CFD, CFEJ, FSMD
As the event drew to a close, we reflected on such valuable insights gained and all of the connections made throughout the weekend! Thank you to all of those involved in making this event possible! The convention showcased the industry's talent, innovation, and constant dedication! We are so grateful for the opportunity to have been a sponsor of this event and contribute to the continuing success of FSFA!
We can not wait until next year! For more information on the Florida State Floral Association, click here!