We are excited to announce our newest Partner, Pete Garcia Company™/ Floramart®! Our members can now browse and enjoy products inside their collection in the Details Item Gallery. The Pete Garcia Company™ is known for exquisite holiday offerings, but now Details Members can see their year-round products! A wide array of product lines of Berwick Offray Ribbon, Patria™ Illumination Candles, and Plus One Imports™ Silk Botanicals can be used in your upcoming event. If you are unfamiliar with the Pete Garcia Company™/ FloraMart® and their products, we would love to introduce you! 
About Pete Garcia Company™/FloraMart®
Owned by the Garcia family, The Pete Garcia Company™, Inc. is located in Atlanta, Georgia. This family-owned business always puts their customers first, and it has been their mission to cultivate lasting relationships with the floral community! FloraMart® was established to make it possible to buy non-perishable floral goods and associated supplies. Establishing a facility to supply and improve purchasing of floral hard goods was futuristic for its time. With Markets being so popular now, it is incredible that Floramart® was among the first! 
The foundation of this initiative was a long-standing partnership among prestigious floral industry suppliers. Wholesale buyers loved FloraMart®, and it gained a reputation as a true "One Stop Shopping" destination for floral hard goods, offering everything from basic necessities to the newest trends under one roof.  Visiting Market is such a vital investment for any floral buyer! You see the new and most popular items used in our industry firsthand. If you are looking to visit FloraMart®, please contact your local wholesaler to be sponsored. Here are the upcoming dates:
2024 Spring/Summer FloraMart® Show (June 5 – 17 / June 19 – 30 / July 10 – 21, 2023)
2024 Fall/Christmas FloraMart® Show (December 4 – 23, 2023 / December 27 – 29, 2023 / January 2 – 20, 2024)
Sponsor Program (July 15 & 16, 2023) 
Company is closed – July 1-9, 2023
"We are excited to work with the team at Details who pioneered project planning in floral and events. We are confident our product offerings in ribbon, permanent botanical, and LED candles will enhance and contribute to their members' success," said President Dave Garcia.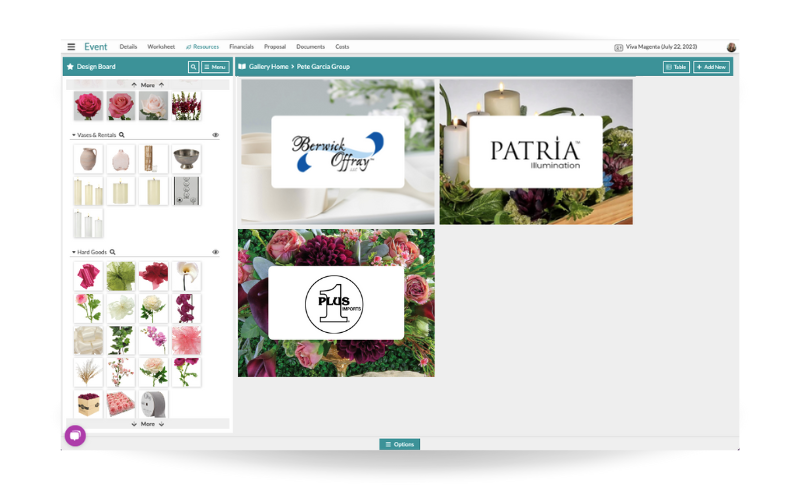 Included in the Pete Garcia Company™/ FloraMart® collection in Details are the product offerings of Berwick Offray LLC, Patria™ Illumination, and Plus One Imports™. In these collections, Details Members will see 137 Ribbon varieties, 24 Candles, and 86 life-like Silk Botanicals! These are incredible products to add to any event or special occasion. Here is more information about each collection! 
Berwick Offray LLC

In terms of ribbon and flower services, goods, fashion, and design concepts, Berwick Offray is a pioneer! They are among the biggest producers and importers of ribbon in North America.
They extrude, cut, and finish their polypropylene ribbons and bows in Berwick, Pennsylvania, as part of their mission to provide Made in the USA goods. In Leesville, South Carolina, ribbons in various designs, including grosgrain and single-face and double-face satin, are woven. In Hagerstown, Maryland, dyeing and finishing procedures take place. 
Their USA-based manufacturing facilities offer various manufacturing options for customizing ribbon, including printing, hot stamping, color matching, and other techniques. Berwick/Offray ribbons are the #1 choice of brides!  Each unique ribbon collection offers a beautiful texture, from shimmering satins to flowing silks to feminine sheers for that special touch. Each ribbon collection incorporates a rich array of colors, including sweet pastel shades to sophisticated and romantic tones. For dream weddings, special occasions, bridal bouquets, centerpieces, and gifts, our ribbon collections deliver unsurpassed quality and everlasting memories to elevate from ordinary to extraordinary!   
Patria™ Illumination

PATRIA™ LED candles are made from real wax and are battery-powered. The patented 360˚ flame creates the flickering glow of a real candle and can be adjusted with remote control functions that include a timer, dimmer, and On/Off. It is the Most Realistic LED Candlelight on the Market! They have offerings from tealights, tapers, and pillar candles. The candles are completely universal and can be reused for any special occasion. 
Plus One Imports ™

Plus One Imports™ is passionate about flower stems and wants to share it with you. As an industry leader for over 50 years, Plus One Imports™ continues to excel in presenting new and exciting products for their customers. Permanent Botanicals have always been one of their specialties. They are dedicated to creating the best replications of what Mother Nature offers in color, texture, and style. 
Whatever the occasion – a glorious wedding, a festive celebration or event, and stylized home decor – Plus One Imports™ is here to support you with an array of stunning florals. They hope you always remember they are here for you and truly hope you keep inviting them to be your PLUS ONE.
We are so excited to welcome the Pete Garcia Company™/ Floramart® to the Details Family! We would love to know what you think of these new products. Tell us on Instagram by tagging Details (@detailsflowers) and The Pete Garcia Company™/ FloraMart® (@floramartatl)! Have you used these products before and want to recommend your favorites to fellow Detailers? Email us, and we will feature your testimonial on our website!