The Details team had a fantastic time at this year's Wedding MBA! The wedding industry is ever-evolving with trends and technology. Staying up to date in our field is crucial for businesses, and that's why we love to participate in this event every year. Wedding MBA brings together professionals from all across the wedding and event industry to share knowledge, network, and showcase their latest offerings. Let's dive into the highlights of our week at the Wedding MBA in Las Vegas!
Sunday, November 5th
The Details team kicked off the Wedding MBA event with early preparations on a vibrant Sunday morning. Before the convention buzz took over, we strolled through the iconic Las Vegas strip, absorbing the atmosphere and the time change. Catching glimpses of the Formula One Race preparations was certainly a site to see.
The evening unfolded with a delightful dinner at the Cosmopolitan with our friend Jackie Lacey from Floriology. As we dined at Beauty and Essex, we learned about Jackie's experience in the floral industry and tried tasty plates. Thank you to Jackie for your continuous support and for joining us for this fabulous night! If you would like to learn all about Jackie and Floriology Institute, stay tuned for an exciting announcement! 
Monday, November 6th
Monday marked the commencement of the Wedding MBA, and the diverse gathering of attendees from every facet of the wedding industry was truly remarkable. Our CEO, Corrine, was the moderator for the Floral Seminar Room throughout the event. We were the official sponsor of the Floral Seminars, so it was great to see all the exciting programming planned for this year! On this first day, florists had the opportunity to glean insights from a lineup of esteemed industry professionals, including: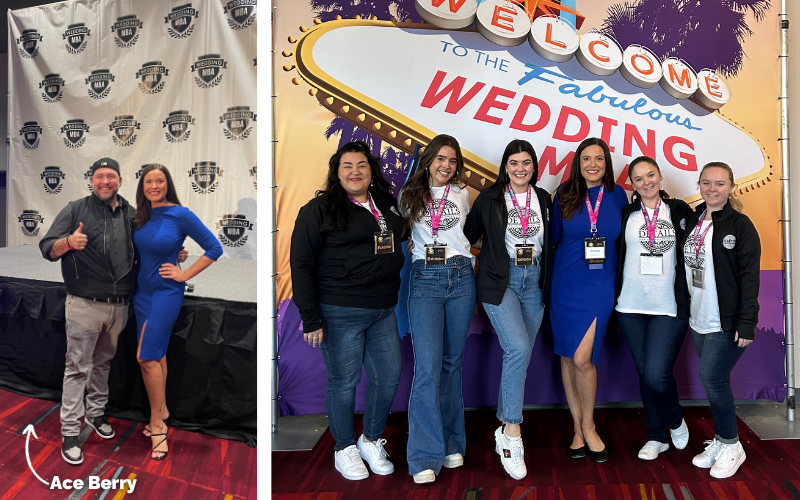 Ace Berry, Just Add Water
Embark on a journey with Ace Berry, a designer, botanist, and artist who breathes life into floral dreams. For those Mondays when creativity feels elusive, let this class serve as your muse. Brace yourself to impress your wedding couples as you delve into bouquet designs, mechanics, optimal floral choices, and unexpected color combinations.
Corrine Heck, Floral Prices…Crisis
The landscape of the floral industry has undergone significant changes due to inflation. The escalating costs of wholesale flowers, labor, and fuel present a financial challenge. Corrine Heck addresses this crisis, guiding you on how to maintain your customer base and floral style without compromising your bottom line. Discover clever strategies to incorporate different pricing models into your business. Check out our blog for a more in-depth look into the pricing strategies we covered in this session! 
Derek Woodruff and Liza Roeser, Ivy League
If you find yourself in awe after scrolling through countless floral masterpieces, wondering how they were created, how long it took, and what the budget was, it's time to elevate your floral design skills. Join our experts, Derek Woodruff and Liza Roeser, for live demonstrations of intricate floral techniques, time-saving installation tips, and the transformation of centerpieces from start to finish.
CeCe Todd, Floral Sales Strategies
CeCe Todd emphasizes the importance of embracing floral objections as opportunities. Recognize that objections indicate a couple's readiness to choose their florist. Uncover techniques to convert sales obstacles into bookings, including insights into budget considerations, words and phrases to avoid, and effective responses to uncommon objections.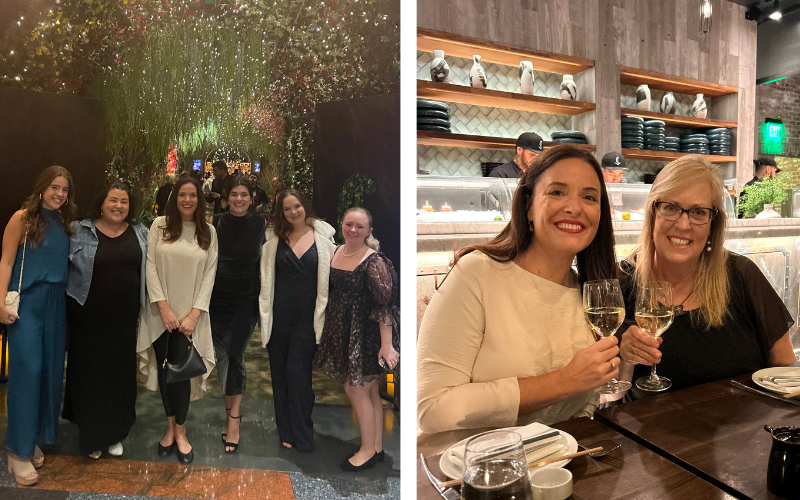 After absorbing the wealth of knowledge from these floral sessions and setting up booths, we concluded the day with a delightful dinner at Catch in the Aria, accompanied by Angela Drouillard, who assisted us at our booth this year.
Tuesday, November 7th
Tuesday started the beginning of the Exhibit Hall opening. Hundreds of wedding professionals visited the large exhibit hall to see the latest trends and technology. We were the official floral lanyard sponsor and loved seeing the florist wearing our special lanyards! We had all of our exclusive swag ready for this year's attendees. We want to thank Jet Fresh for the flowers that made our booth so beautiful!!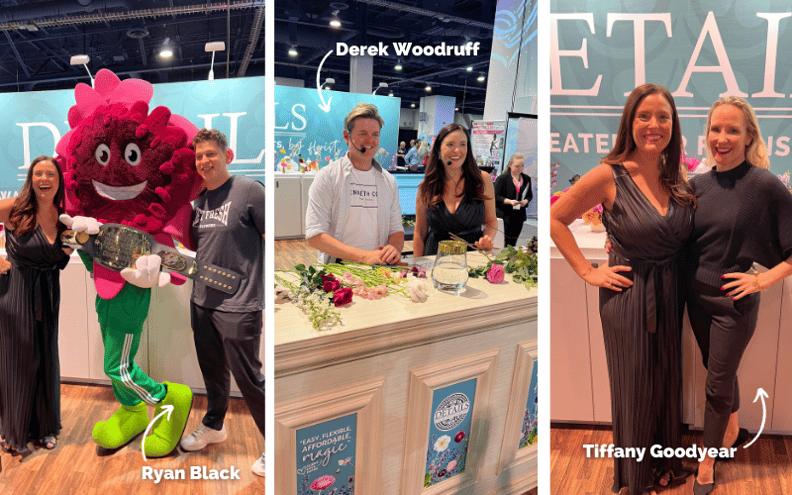 We had interviews and live floral demonstrations with industry professionals throughout the booth days. On day one, Tiffany Rose Goodyear from ScentEx talked about the importance of including scent in your events. Check out this blog for tips on selling this experience in future events! Next, we interviewed Ryan Black from Jet Fresh! Jet Fresh was right by our booth this year, and we could not have had a better neighbor!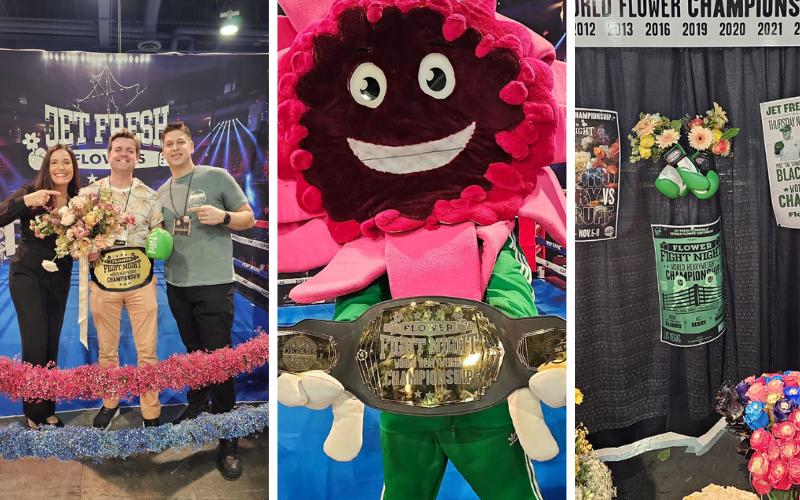 Of course, the Jet Fresh team did not have an ordinary booth; they had a Flower Fight Night! Their booth was transformed into a Vegas-style boxing Ring for the bouquet competitors Ace Berry, Derek Woodruff, and Bron Hansboro. Votes were collected during the expo for the winner of the heavy-weight belt. Congrats to Derek for being the first heavyweight champ!!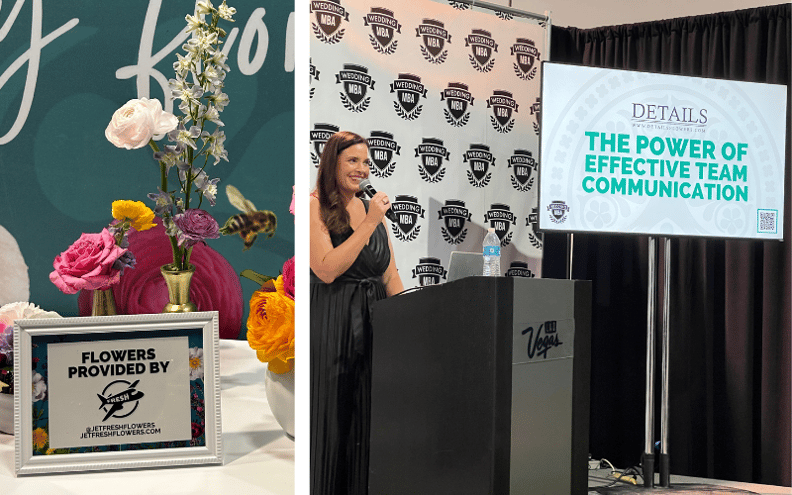 At the WedTalk seminar on Exhibit Stage One, Corrine presented " The Power of Effective Team Communication." Drawing from her experience and leadership in the floral industry, she navigated the intricacies of communication within teams and with freelancers, suppliers, and wholesalers. Her presentation went beyond the conventional, diving into strategies, tips, and real-world examples for the audience to incorporate into their work when they return home.  
Lastly, Derek Woodruff created a centerpiece design with the Syndicate Sales Floral Grid. It was so fun to see the crowd's reactions to the magic of the floral grid! Thank you to Derek and Syndicate Sales for all the grids we gave away.
Wednesday, November 8th
The last day was as exciting as the first, with a packed itinerary at our booth. To start the day, we had Elizabeth Fisher from Lizzie Bee's Flower Shoppe create a beautiful bouquet with Jet Fresh products.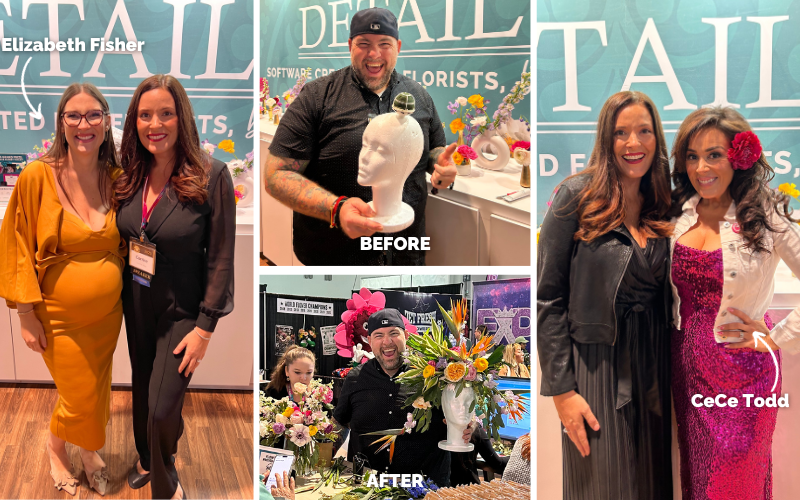 Ace Berry packed the house, creating a tropical headpiece. He used Birds of Paradise to give the headpiece a wow factor that any client would love! 
CeCe Todd spoke at our booth, giving her history in the floral industry and what she loves most about attending these industry events. We are so excited to have CeCe a part of the Details Family!
We had the incredible Donald Yim speak at our booth to round it out. Hearing his story about becoming a floral designer and learning about many cultures through his career was inspiring. 
We got to meet so many of our customers face-to-face! We love hearing about their businesses and how much they enjoy using Details. We love our customers, and it is always a highlight for us to meet them in person!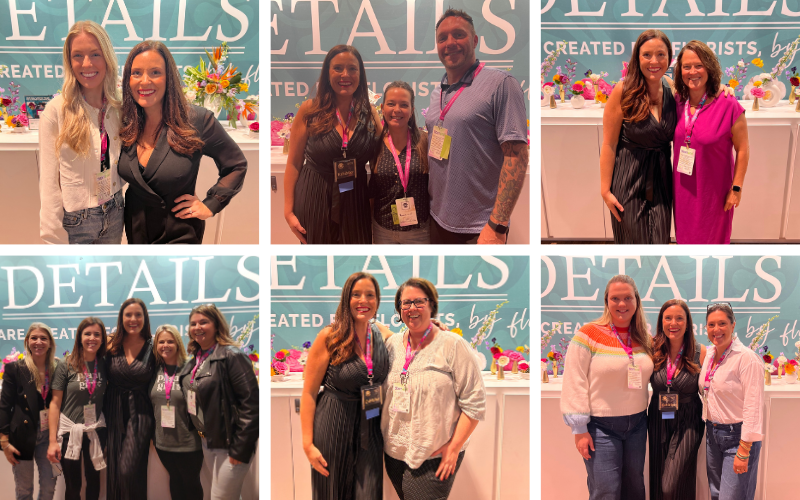 The last floral seminars were rounding out the event as the booths closed. During the event, we hosted a huge giveaway featuring products from our partners. This included products from Syndicate Sales, Smithers-Oasis, BloomTV, Jet Fresh, Rosaprima, Meraki Shears, That Flower Feeling, ScentEx, and so much more! Thank you to all our partners who contributed to our giveaway and made it so exciting for all attendees. We announced the winner at the start of the floral sessions. The Grand Prize winner was Shelly Sarver of Shelly Sarver Designs! Congrats Shelly!
The speakers were not to miss on this last day: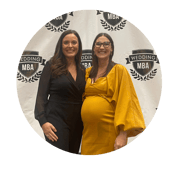 Elizabeth Fisher, Blooming Wonderland
Bouquets and centerpieces are expected, but the real show-stoppers are the floral extras. Featuring wearable florals and stunning chandeliers, get your couples excited about creative add-ons that increase your per-wedding profit. Learn prices for floral add-ons , rig a chandelier safely and efficiently, and Floral fashion art.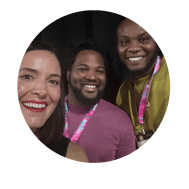 Bron Hansboro, Crazy Daisy, Boundaries for Difficult Customers
She wants you to count not only the number of stems, but the number of petals on each flower to include in the contract. He thinks your price is just a suggestion that can be negotiated. She wants a hydrangea in her bouquet for a June wedding in the desert. They don't understand why you can't meet their expectations and budget. Learn to identify know-it-alls, fighters, type AAAA's and price negotiators, sample floral contracts to protect your business and win                                                      good reviews even when things don't go as planned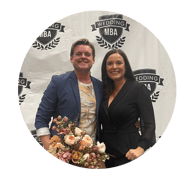 Derek Woodruff, Floral Fantasy
From epic ceremony aisles to statement centerpieces to delicate bouquets and overhead installs with drama. This year's flower fashion is anything but predictable.  Learn about Fairytale worthy centerpieces, bouquets, and oversized installs and Non-traditional vessels and top floral wholesalers.
The last night in Vegas was truly one for the books! We dined at Vanderpump Paris with CeCe Todd and Dana from Southern Styled Events. We had so much fun celebrating all the hard work over the week and celebrating new friendships!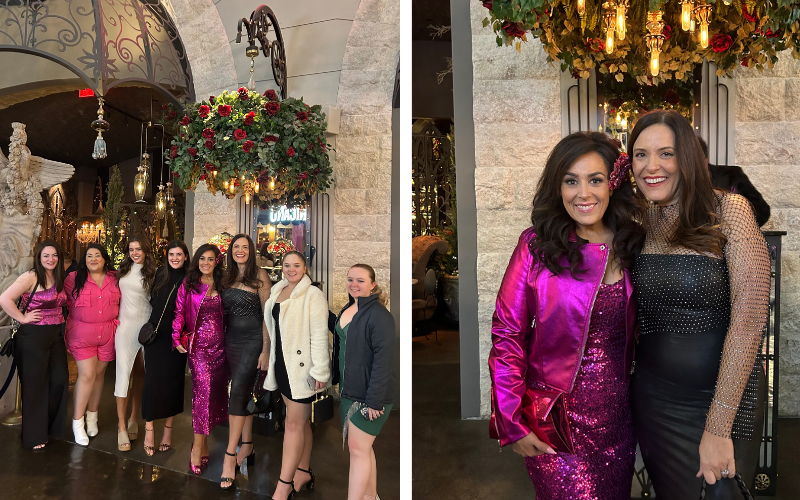 Thank you, Wedding MBA, for another fantastic year! If you want to attend next year, starting planning is not too early! Visit their website to book your ticket for November 12-14, 2024!